10/9/2015
WHO Europe to adopt first physical activity strategy
Now it's time for other regions to follow suit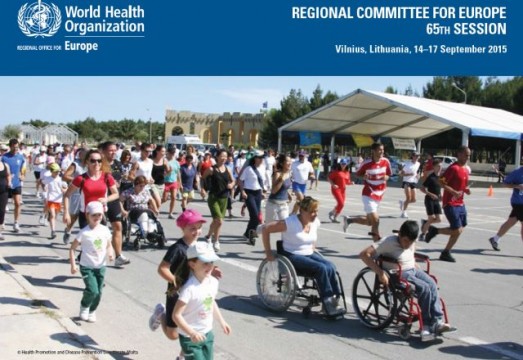 Comment by ISCA President Mogens Kirkeby
Adopt, implement and be an inspiration for other regions – that is my wish for Ministers and high-level representatives from the 53 member countries prior to the European Regional Committee meeting in Vilnius from 14-17 September.
In the coming week the World Health Organisation's Regional Committee for Europe will meet in Vilnius, Lithuania. The Ministers and high-level representatives from the 53 member countries of the Regional Committee for Europe have important topics on their agenda. From ISCA's perspective the most interesting one is: WHO European Region physical activity strategy 2016-2025.
This is the World Health Organisation's first regional physical activity strategy and it sends a clear signal that physical activity is seen politically as being of increasing importance. Physical inactivity is a major threat and is unfortunately so widespread that the respected medical journal, The Lancet, described it as a worldwide "Physical Inactivity Pandemic" in 2012.
Over the last decade several stakeholders – not least civil society organisations like ISCA – have been advocating for the inactivity pandemic to be taken seriously and to prioritise a structured way to develop the solutions, and to increase physical activity levels significantly as a result.
Adoption and implementation
The first step is to adopt the physical activity strategy. That is the easy step. The next step will be to implement it. And even though the member states have the responsibility of adopting the strategy, its implementation is not simply a task for the Ministries – it is task for a multitude of stakeholders, including the civil society organisations that have been advocating for it.
It is extremely encouraging that the strategy's number one priority area is "Providing leadership and coordination for the promotion of physical activity". Today we unfortunately still have too much "silo-thinking" where various ministries, institutions and organisations are doing a little on their own, but could have a much bigger impact by engaging in a minimum of coordination and collaboration.
European member states have, in fundamental human right terms, a duty assist citizens' in gaining access to physical activity and recreational physical activity. Civil society organisations like ISCA have a moral duty to assist in this field, where we have both the competence and experience to make a difference. If we can work together on developing clear visionary goals, structured leadership and coordination for the promotion of physical activity, we can have a huge positive influence on public health and citizens' wellbeing – and, who knows, maybe we can also be an inspiration for other continents in the WHO collaboration.
Read the draft strategy here
ISCA has been part of the stakeholder process and given input to the Strategy and we appreciate the increased focus on physical activity.