16/8/2017
When the city becomes your playground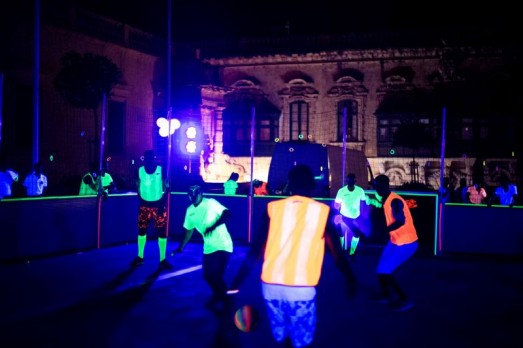 Physical activity is one of the easiest ways to activate people and add a spark or summer glow (sometimes literally!) to an otherwise dull day. This summer, MOVE Malta showcased its new collaboration with StreetGames UK, inspired by ISCA's MOVE Transfer, introducing Doorstep Sports Training and a futuristic "Glow in the Dark" football match to young people in Valletta, Gozo and Santa Lucija.
"We wanted to add value to the 2016 implementation of [of MOVE Transfer] to train their volunteers in delivering Doorstep Sport based on what MOVE Malta had seen and heard about from the previous StreetGames collaboration with Kosovo OESK and Sweden SISU," Russel Smith from StreetGames said.
"This year we focused mainly on college students who can understand Doorstep Sport, working with minority groups and managing Challenging behaviours. The legacy of this will be to see how many people link with MOVE after the initial training and it's been great to see that this is happening."
Empowering communities through sport
Gathering 16 MCAST College Sport Students, the three-day training course was delivered by Smith and it included both theoretical and practical settings in various communities around Malta. Enhancing volunteers' skills and gaining valuable experience for future employment, the training resulted with a series of innovative pop up street sports events around various locations in Malta and Gozo.
In one of the practice-runs, the participants teamed up with 35 participants in Santa Lucija – young mothers and their children aged 5-12. Together with the Glow in the Dark football matches, the summer activities showed how sport-for-all events are always striving towards inclusion.
Glowing playgrounds
The Glow in the Dark street soccer and other games were organised in Pjazza San Ġorġ (St. George's square), Valletta in July where the lights on the square were switched off for this event only. Around 250 young people coming from different cultural backgrounds participated in the event.
Using ultraviolet lights, reflective clothing and colourful UV make-up, obscured otherwise visible characteristics such as skin colour, religious and cultural origin. Active and young volunteers from MCAST Sport Students helped to transform all participants into glowing night creatures. Together with refugee-led organisation SPARK 15, they truly turned the city into a glowing playground for the night.
The Glow in the Dark event was a good example of how local organisations can promote a new culture of movement, Cynthia Debono (pictured below, left), MOVE founder and director noted.
"MOVE Malta believes that through the above support and thanks to the sterling work, dedication and commitment of the young volunteers, our society can overcome the barriers that stop young people from being active and consequently promote active communities, as well as community cohesion through street sports and culture," she said.
The partnership between StreetGames and MOVE Malta will continue in 2018 with potential UK and Maltese exchange and training with volunteers planned.
By Triin Ilves, ISCA