8/12/2020
What if inactivity was a new virus?
Asking the difficult questions on societal priorities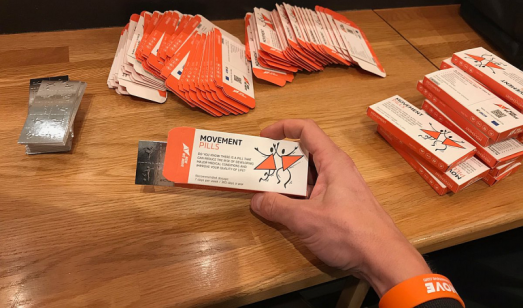 Comment by ISCA Secretary General Jacob Schouenborg. (Pictured: ISCA's NowWeMOVE Campaign MOVEment Pills boxes).
I admire the resolute responses that governments around the world have demonstrated to address the threat of the coronavirus. And I admire the resilience and responsiveness of citizens and businesses to comply with the restrictions and find solutions. I also think it is fair that we ask questions along the way.
We need to realise that the Covid-19 restrictions have significant impacts on other areas of everyday life, including the economy, and our capacity to treat other illnesses in the public health systems. And we have to remember that the WHO definition of health as "a state of complete physical, mental and social well-being and not merely the absence of disease or infirmity". Therefore, we should also assess the (negative) mental health outcomes of the corona restrictions, and weigh them into the equation as well.
It seems to me that the resoluteness of governments and societies in face of the coronavirus pandemic reaffirms an old learning from political science: A sense of urgency skews political priority. And thus, we give more weight to URGENT issues (coronavirus) than to LONG TERM issues (wider societal problems).
Everybody seems to say that we need to "build back better", meaning that we should use the coronavirus disruption to address existing problems. The challenge seems to be that each stakeholder thinks that their unique priority should be the one to be addressed. And thus we have the same "choirs" and interest groups, as always, saying pretty much the same thing, and the political negotiations and ultimate balances are therefore not likely to change.
For us in the physical activity and grassroots sport sector, it begs the question: What if inactivity was not a "slow" problem that we had to tackle over a long period of time? What if it came overnight, like a virus, and was looked upon for all the negative consequences it has, such as killing 5 million people every year? My bet is that we would see a much more systematic and effective response from governments, stakeholders and citizens.
We have the evidence on the financial impact of Covid-19 on sport, on the impact of Covid-19 restrictions on inactivity levels, the health impact of physical inactivity and ever since ISCA released the Inactivity Time Bomb report we know about the overall economic cost of inactivity.
Can we create the same sense of urgency for physical activity that we see across the world in response to the coronavirus pandemic?