20/11/2015
"We need creative ideas to move kids":
Lazy Town's Magnus Scheving headlines ISCA session at Creative Business Cup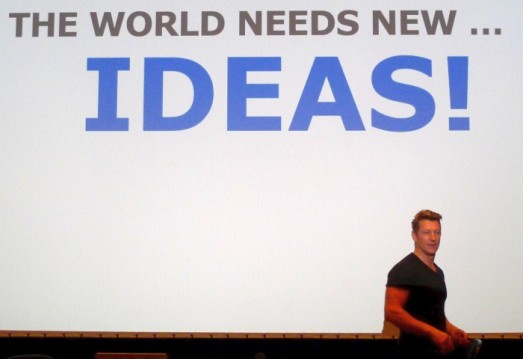 The Creative Business Cup in Copenhagen from 17-19 November saw budding entrepreneurs from around the world pitching their creations to industry stakeholders who could help them break into the market. Twenty years ago, Icelandic aerobic gymnastics champion Magnus Scheving was in their shoes. But at ISCA's VIP session at the event he was the headline telling a success story that started with an ambition to get kids moving, eating healthier and being happier.
"Kids know how to move," he said, referring to a child's natural instinct to be active and look after their bodies by crouching to lift objects, among other protective movements.
These instincts don't fade, he said, but our brains are becoming counter-intuitive.
"The body takes care of you… but we don't know how to read it anymore. Kids are living sicker and dying younger and that's the reality."
Scheving recognised this problem, but knew that tackling it with scare tactics and "don'ts" was not the way to get through to the youngest generation. If anything, he found they made children defiant and less inclined to follow a healthy lifestyle. So he looked outside the box, created a superhero who gets his powers from exercise, fruit and vegetables, and created an award-winning children's TV show (LazyTown) and entertainment business that has now spread from the remote nation across the globe. He has now sold his multi-million euro show to Turner Broadcasting and is currently writing his autobiography in English.
The philosophy behind his successful venture is that the way in which adults behave around, talk to and educate children can have a powerful influence on their habits – and that the most positive approach is to combine education and movement, present it as a game, change the game frequently and make sure to keep the children actively involved.
"We need creative ideas to move kids… and you have to make being healthy a game," he said. "You should take ordinary things and totally change them."
It could be as simple as taking them on a bike ride around town and spelling words with letters from street signs, or finding different ways to throw and catch a ball. The same principle applies to campaigns, he said, mentioning the NowWeMOVE campaign as a good example.
"Governments are always seeking advice on how to turn health into a game," he said, and referred back to the Chinese proverb, Tell me and I will forget; show me and I may remember; involve me and I will understand.
"That's what's important about campaigns like NowWeMOVE – they involve people."
In the discussion following Scheving's presentation, the adults in the audience asked how they could become role models for their children.
Love what you do, have fun, be passionate and dedicated and you will be on the right track, he advised.
"How many passionate grown-ups do you see?" he asked.
"One" could have been an obvious answer at the beginning of the session – and, after over 100 slides and an hour and a half of fast-paced inspiration, anecdotes and advice, there could easily have been a few more who left the room, ready to embark on a new venture.
By Rachel Payne, ISCA