16/3/2010
Week Against Racism
13-21 March 2010
ENJOY DIVERSITY
European-wide Action Week Against Racism 13-21 March 2010

NGOs from 48 different European countries mobilise against Racism - more than 235 actions are planned in Europe's largest anti-racism campaign.
In the European-wide Action Week Against Racism, around 21st March, hundreds of grass-roots organisations from all over Europe join forces and come into action against racism, xenophobia, right-wing extremism and related discrimination.
The activities are coordinated by the Amsterdam based secretariat of UNITED for Intercultural Action - the European Network against Nationalism, Racism, Fascism and in Support of Migrants and Refugees.
Racists neither have courage nor taste: Open your mind and ENJOY DIVERSITY!
Under the slogan of "Enjoy Diversity" the campaign unites tens of thousands activists, from Portugal to Russia and from Iceland to Cyprus, to claim the streets and celebrate diversity.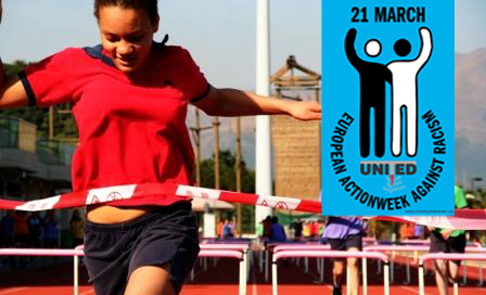 Why 21st March?
The General assembly of the United Nations declared 21 March the
"International Day for the Elimination of all Forms of Racial Discrimination"
This day was implemented as a reaction to the murder of 70 anti-apartheid demonstrators in Sharpeville, South Africa, in 1960. Apartheid was a legal system of racial segregation enforced by the government of South Africa between 1948 and 1990.
"No one is born hating another person because of the colour of his skin, or his background, or his religion. People must learn to hate, and if they can learn to hate, they can be taught to love, for love comes more naturally to the human heart than its opposite"
Nelson Mandela
The best-known anti-apartheid activist, Nelson Mandela, was released from 27 years long lasting political imprisonment in 1990.
Now, 20 years later, Europe's society is on the edge of separation along the lines of ethnicity, religion and wealth. This dangerous erosion of social cohesion is fuelled by populist propaganda; lack of awareness and education; and the common shortcut of scapegoating to deal with complex problems.
Diversity is something that has to be valued, enjoyed and given importance. In this way it is needed to teach love and not hate - and be aware about the beauty and potential of a European society that became more diverse and heterogenic in the last 20 years.
It is crucial that this awareness evolves from the bottom up. Hence the commitment of grass-roots organisations and the UNITED Network in a campaign that aims to unite Europe in one common Action Week became a necessity.
Press Material
Press material in high resolution:
List of Activities by country:
Background information:
For more information please contact:
UNITED for Intercultural Action
phone +31-20-6834778
fax +31-20-6834582