5/10/2010
Vote for Sport
Bringing the focus to sport // Scottish Parliamentary Elections in 2011
At 3pm on Tuesday 21st September the Scottish Sports Alliance (made up of the Scottish Association of Local Sports Councils, Scottish Sports Association and Scottish University Sport) launched the VoteforSport campaign.

The VoteforSport campaign is designed to raise the profile of sport throughout the Scottish Parliamentary Elections in 2011. The campaign will encourage MSPs and Potential Parliamentary Candidates to pledge to the following statement;

"I pledge to recognise the unique role, value and potential of sport in Scottish society and upon my election to the Scottish Parliament I will act as a Scottish Sporting Champion throughout my term in Parliament."

At the launch Margo MacDonald MSP commented that "sport has for too long been in the political shadows in Scotland. I strongly believe that sport has a big role to play in Scottish society; it impacts on so many areas of life including health, education and communities."

Margo MacDonald MSP became the first MSP to sign the Scottish Sports Alliance Pledge adding "this is a great campaign and I am delighted to be the first MSP to sign the Pledge. I have been a strong advocate for sport in the Parliament and I am sure that the Alliance will find many more through this campaign, and I would encourage all MSPs and candidates to sign up."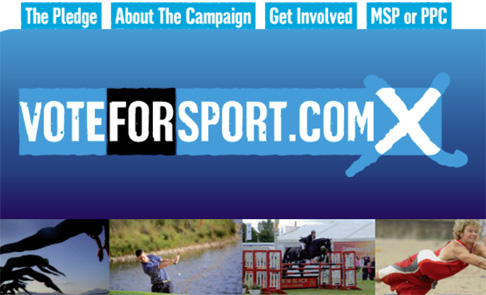 The campaign will not only encourage MSPs and PPCs to sign the Pledge but will also utilise the power of the some 900,000 men and women who take part in sport in Scotland. Policy Director of the Scottish Sports Association, Kim Atkinson highlighted that "sport is undoubtedly Scotland's greatest social movement; with 1 in 5 people in Scotland a member of one of our 12,000 sports clubs. VoteforSport will give this constituency a voice for the first time in Scottish elections."

Joining the Alliance at the launch Rhona Martin MBE added "sport has a played a huge role in my life, I have had the honour of representing my country on the highest stage. However sport has a positive impact on all who participate from the local park to the Olympic Games.

Sport has the power to support a nation but more importantly it has the power to support individuals; it is often our first experience of winning and losing, it promotes team-work and co-operation and most of all it is fun."

But we also need you, members of ISCA to show your support for sport. One-fifth of the Scottish population play sport - its time to make your voice heard. Please spend one minute to sign up to the Pledge at www.VoteforSport.com. Sport is Scotland's greatest social movement but Scottish sport needs your help!

Join Rhona Martin MBE, Margo MacDonald MSP and the Scottish Sports Alliance and VoteforSport.