4/5/2010
VIVICITTA 2010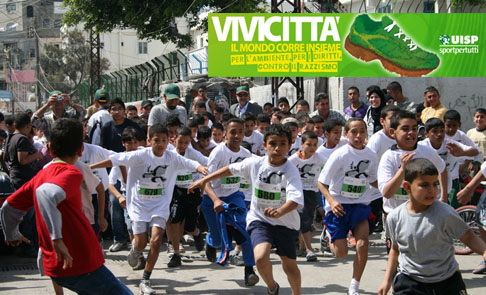 RUNNING FOR RIGHTS, FOR THE ENVIRONMENT AND AGAINST RACISM
"Vivicittà is a messenger of peace and solidarity, in Italy and in the world", says Filippo Fossati, UISP National President, "Our goal is to focus the public opinion's attention to important social emergencies, using the popular language of sport".
The world runs together
The Italian edition of Vivicittà 2010 took place on April 11thand itwas focused to involve migrants communities and to promote integration in local realities.
"The world runs together": this was the slogan of the race which gathered 70.000 runners in 37 Italian cities on two tracks, a competitive of 12 km. and a not competitive of 2 or 4 km.
Vivicittà run for rights and for dialogue: on April 18th took place a very special edition in Lebanon, East Jerusalem and Syria. 3000 Palestinian kids coming from all the 12 Palestinian refugees camps throughout Lebanon met to run together; at the same time other kids run in the palestinian camp of Shu'fat, near Jerusalem, and in the Yarmouk camp in Damascus: to promote dialogue and peace. The event has been organised by Uisp in collaboration with UNRWA and LPDC (Lebanese Palestinian Dialogue Committee), and it has been promoted by the Italian Development Cooperation and the Embassy of Italy.
The italian cities of Vivicittà raised funds to build a playground for the Palestian camp of Beddawi, to give the opportunity to the children to practice recreational activities.
Vivicittà run for environment: 4 years ago the event started working to become a "zero impact" event, using all ecological materials, using public water, promoting the use of public transport and of separated collection. This year all these shrewdnesses permitted a reduction of 85 tons of CO2 in the organisation of the event: to compensate more CO2 the organisators has been invited to plant a tree at any 200 participants.
Vivicittà also run abroad in 18 cities: in Europe (Bosnia Herzegovina, Belarus, France), in Africa (Senegal, Sierra Leone), in America (Brazil) and for the first time in the city of Yokohama, in Japan: everywhere to promote the values of sportforall.
Not forgetting the importance of Vivicittà in prisons: an occasion to give to the prisoners the possibility to run with the rest of the world, using sport as a mean of social growth.
Read more about Vivicitta 2010 here >>>.