12/11/2010
UNOSDP – United Nations Office on Sport for Development and Peace
ISCA Stakeholder in Focus
Sport can make a difference in everyone's life. But for some people, such a difference is between hope and despair, smile and tears, poverty and employment, war and peace, sickness and good health, exclusion and equality. Sport can give them a chance.
As the Special Adviser to the United Nations Secretary-General on Sport for Development and Peace, I am deeply convinced that sport, physical activity and play is a key tool that can be used in the achievement of social transformation and inclusion. The UN is committed to promoting the access to sport for all (in priority to those who need it most) and to harness the power of sport in the pursuit of the eight Millennium Development Goals (MDGs). The UN recognizes sports as a universal language which people worldwide can identify with and understand. Many UN agencies use sport as a cost-efficient and cross-cutting tool in their programmes. The UN also recognizes the power that athletes have to reach out to people. Many elite athletes are UN Goodwill Ambassadors, and use their fame and influence to help in the achievement of the MDGs.
Governments are increasingly realizing that investing in sport and physical activity as agents for development and social change provides very good return on investment. A large number of countries support the resolutions on sport that are adopted every year by the UN General Assembly. However, many Governments still need assistance in designing and implementing sport and physical activity policies and programmes.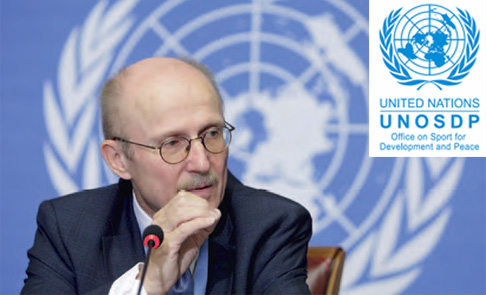 Sports organizations are also increasingly recognizing the important role they can play in achieving the MDGs and assisting in social change. The International Olympic Committee (IOC), which recently became observer to the UN General Assembly, has been amongst the first sports organizations to support the MDGs. Another example is SportAccord, the umbrella organization for international sports federations, which through a Memorandum of Understanding with my Office has recognized the importance of sports organizations implementing programmes that help in the achievement of the MDGs.
Non-governmental organizations (NGO s) implementing sport-and-development programmes worldwide are key players as well in the achievement of the MDGs. Their grassroots initiatives are often the ones that go unrecognized, however they are the ones that are usually on the ground doing the hard work.
Building on the actions of all the above mentioned partners, it is crucial to create partnerships whereby the role and impact of sport can be multiplied. This was recognized at a Roundtable on Sport during the recent UN MDG Summit in New York. Partnerships are instrumental in strengthening knowledge, best practices and skills of all of the partners, and ultimately improving delivery.
Organizations such as the International Sports and Culture Association (ISCA ) and the Association for International Sport for All (TAFISA ) are, in essence, networks which through their members and partners have a unique opportunity to assist the UN in achieving its objectives and act as advocates for development and social change through sport for all.
By working together, we all have an opportunity to strengthen the Sport for Development and Peace movement and create a network of individuals, Governments, NGOs, Federations, companies, research institutions that can partner to make a real difference worldwide through sport, physical activity and play.
Let us team up in the fight for a better tomorrow!
Wilfried Lemke
Under-Secretary-General
Special Adviser to the Secretary-General on Sport for Development and Peace