31/7/2013
UISP's Mondiali Antirazzisti 2013 combines sport, peace and
8000 participants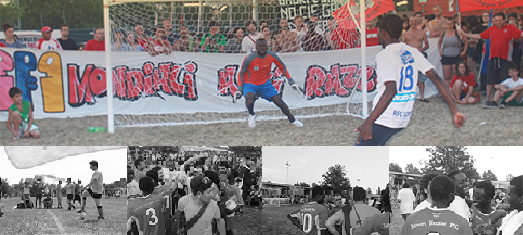 The 17th annual Mondiali Antirazzisti festival, organised by UISP, one of ISCA's members, took place between 3-7 July and brought over 200 teams and around 8000 participants together in Castelfranco Emilia, Italy. This year ISCA sent two staff members from its Copenhagen office, Baptiste Colin and Patryk Klos, to Italy to lend a hand. Patryk Klos shares his experience of the event.
The atmosphere at the Mondiali Antirazzisti festival is magnificent. Everyone is there to promote the same message – to fight against any type of discrimination, whether it's related to skin colour, gender, age, cultural background or anything else. The peaceful environment is monitored by "friendly security guards" who never need to do much more during the week than stand back and enjoy the events. The only noise you can hear from the crowd is the sound of proud fans singing their favourite clubs' anthems and challenging each other with their voices until they eventually lose them.
The event's non-competitive football tournament, also known as the "Antiracist World Cup", always draws the most attention with its final being played on the Saturday night in front of the whole Antirazzisti crowd. But because the tournament is supposed to remain non-competitive until the end, penalties decide who the winner is.
Alongside the football tournament are several other sports in which teams can try their best. Classic sports like 3 on 3 basketball or volleyball are very popular, but you can also find disciplines like cricket, touch rugby or, introduced to Mondiali this year, tchoukball – everything of course following the non-competitive rules.
But the festival offers more than just sport and competitions. Everyday there are different classes, workshops and shows happening that are free for everyone to join and to watch. Kindergarten groups and other children also find something to keep themselves occupied, and you can see and hear many of them running around and playing on the grounds of Antirazzisti under the supervision of their teachers. And every night there are live concerts on stage offering entertainment for the older ones – free of charge, as is everything at the festival.
On Sunday, the last day, it's time for most participants to go home, but not everyone! The indispensable volunteers stay one day longer, taking care of the pitches, removing the tents and stages and tiding up the ground for next year. Around 200 volunteers helped to make this event happen this year and our little ISCA team was among them.
Mondiali Antirazzisti is a great initiative that UISP has staged every year since 1997, infecting more and more people each time with its great atmosphere. Let's hope that its audience will grow even bigger in the coming years.
---