24/2/2014
Twofold strategy reaps twice the benefits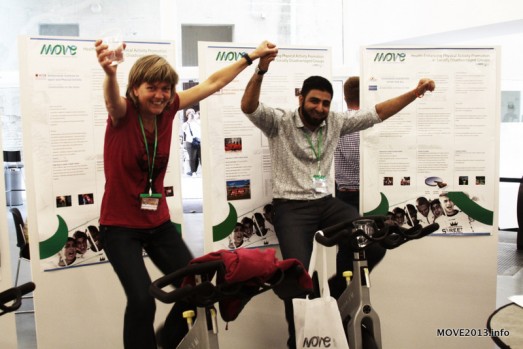 The Netherlands Institute for Sport and Physical Activity (NISB) approached its MOVE pilot project with a twofold strategy. First, it wanted to open up a sport traditionally seen as being for wealthy families to low socioeconomic families. Second, it wanted to train staff of a sports club to be more effective in facilitating parent and volunteer engagement. The result? NISB and its Rotterdam partner have not only achieved these two objectives, they have encouraged more local parents to come and support their children's sporting activities and, in turn, have attracted more volunteers to help run the club.
Field hockey is the second most popular sport in the Netherlands at both the elite level – where the national women's and men's teams are the reigning Olympic gold and silver medallists respectively – and at the grassroots level. But even at the grassroots level there is a tendency for field hockey to be perceived as a sport for the rich. A new hockey club situated in a low socioeconomic neighbourhood in Rotterdam is aiming to change that perception, making a targeted effort to welcome poorer families to join in and get involved.
NISB and the hockey club entered into a partnership through the MOVE project to trial a programme to get more socially disadvantaged parents and children involved in a local hockey club. Anita Vlasveld, an Advisor/Trainer at NISB, says the partners saw both a need for opportunities for these families to enjoy being part of a sports club as well as the potential of the programme to have a snowball effect on the parents' community engagement.
"The parents either don't have the economic possibilities or it's not in their culture to work as volunteers or to be active in running a sports club. So you have to do much more to get the parents involved and in the first place you need the parents to accompany the children to the matches and training. The idea is that as soon as you get the parents active, then you can go a step further to get them active in other activities in the club or maybe get them to recruit other parents or inhabitants from the neighbourhood," she says.
Fine tuning the way forward
Vlasveld coordinated the MOVE pilot project along with the founder of the hockey club and a young female staff member at the club who used to play hockey and was fresh from finishing her studies. The MOVE pilot project encouraged them to develop an approach to training coaches, trainers and leaders that aimed to equip them with strategies to work with the parents in ways that made them feel comfortable engaging.
The club founder and former hockey player ran training sessions to teach the children how to play hockey as well as developing the capacities of staff who were implementing the programme. All three of the coordinators worked together to use their experiences in running both strands of the programme to develop a manual as a training tool for the staff and a movie to attract more parents to help out at the club.
Getting extra resources to fine tune their approach and document what they learned in a manual was a valuable opportunity which challenged NISB and the hockey club to reconsider how they engaged local volunteers in general, Vlasveld notes.
"I think that because of the external input we have been stimulated to think more about recruiting, guiding and retaining volunteers," she says.
"Before we got involved it was done more or less on an ad hoc basis, in that we needed people to run the teams. There was no structural plan or anything. Now we have thought more on the long term about how to involve volunteers, how to recruit them and how to behave towards them. So that is interesting and they have put that on paper and as soon as there is a new trainer or coach, they can be informed about their tasks through training or through written materials. It is also a good basis for guiding meeting and discussing things when you meet with the trainers, coaches and so on."
From hockey-inspired trial to a multi-sports club
The success of the pilot project means that the new Rotterdam hockey club will continue to be a hub for socially disadvantaged families to participate in community sport and feel valued for their contributions.
An expansion of the club is also on the horizon:
"The idea is that this will be a multi-sports club for the neighbourhood and that more things can be organised apart from hockey for and by the inhabitants of the neighbourhood," Vlasveld says.
Vlasveld says the club will carry the momentum and the inspiration it gained through the MOVE project to this next phase, highlighting the benefits of being part of an international project.
"It has helped that people from outside have provided support, not only with money, but also ideas," she says.
By Rachel Payne, ISCA