16/8/2013
Training of Trainers final step in France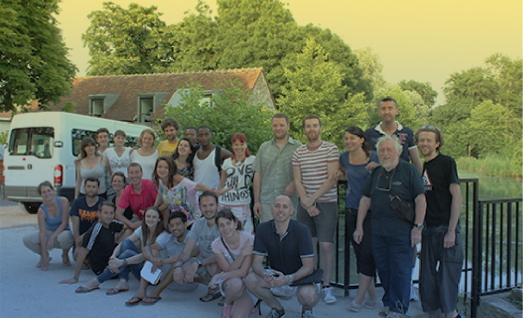 ISCA's Training of Trainers for Education through Sport programme came to a close with its third and final Step in Gracay, France, from 22-28 July. The Training of Trainers programme has signified the importance of young people being the catalyst for educating through sport. Experience and a willingness to learn were important factors and the participants did not disappoint. The meeting marked the end of one project and the beginning of a new initiative – the ISCA Pool of Trainers.
The Training of Trainers programme participants went through a long, educational, emotional and motivating process which finally led them to France.
The progression the participants showed from Step 1 in Scotland (June 2012) to the end of the programme was substantial, thanks to guidance from top trainers in youth work Laszlo Foldi, Fabian Gomez and Heather Turney.
Between Step 2, organised in Italy, and the final Step, the participants were involved in an international practice phase, where they joined events (trainings, seminars, conferences) organised by ISCA, our partners or even developed entire training courses themselves which were delivered in several countries, reaching out to many other organisations, young leaders and youth workers.
Sharing experiences, sharing emotions and sharing project ideas were high on the agenda for Step 3. The participants had mixed reactions to their international experience as a junior trainer – some being very happy with their performance and others wishing they had done more. No matter the reflection, there was a learning point for every individual, as well as the group!
The focus for the end of the week was to establish a Learning Community which will be used to share, assist and develop ideas, training methods and projects.
With this, an ISCA Pool of Trainers will be established, named the "ETS Pool" (Education Through Sport Pool). The purpose of the ETS Pool is to promote the "education through sport" approach in non-formal education and to support organisations that are aiming to use this approach in their activities at a local, national or international level. More information about how to contact the community and Pool will be online soon.
During the project, an editorial team composed of participants and trainers also developed a Training Manual for the education through sport approach, including several exercises that were developed or used throughout the programme, being a testimony of the innovative learning environment that was created among the participants. The Training Manual will soon be published on paper and online.
If you would like to find out more about ISCA Youth activities or the ISCA ETS Pool of Trainers, please contact Gary Grieve - [email protected]
Gary Grieve and Sorin Buruiana, ISCA