9/3/2020
Sports Club for Health model continues to grow with new project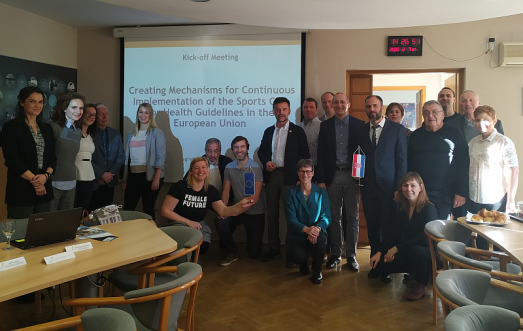 The Sports Club for Health (SCforH) model is one of the largest Europe-wide initiatives running in the area of sport and health. It started in 2008 and has since received three consecutive grants from the European Union. The latest is for an international project called Creating Mechanisms for Continuous Implementation of the Sports Club for Health Guidelines in the European Union (SCforH 2020-22), which was launched at a kick-off meeting on 7 February in Zagreb, Croatia.
The overarching aim of the project is to increase participation in sport and physical activity in the European Union by encouraging sports clubs and associations to implement Sports Club for Health principles in their activities.
SCforH 2020-22 is being led by the University of Zagreb Faculty of Kinesiology. The three-year long project is funded by a European Union Erasmus+ Collaborative Partnerships grant and includes 18 partner institutions from 13 countries.
ISCA is one of the project's partners, alongside Karl-Franzens University of Graz (Austria), Palacky University (Czech Republic), University of Turku and University of Jyvaskyla (Finland), German Gymnastic Federation (Germany), National School, University and Leisure Sport Federation (Hungary), Athlone Institute of Technology (Ireland) and Victoria University (Australia).
Want to know more about Sports Club for Health approach? Visit our website or follow us on twitter @SCforH
By the University of Zagreb Faculty of Kinesiology and ISCA