2/12/2010
Sport for Social Change Network International Seminar
9-13 November 2010 in Rio de Janiero - Brazil
The Sport for Social Change Network (SSCN) of Brazil organized an International Seminar from 9-13 November in Rio de Janiero. The seminar topics included violence prevention through sport; development strategies for the culture of sports participation; indexing and monitoring of sports policies and the millennium development goals; social and environmental sustainability in sports; educational sports and economic development through sports.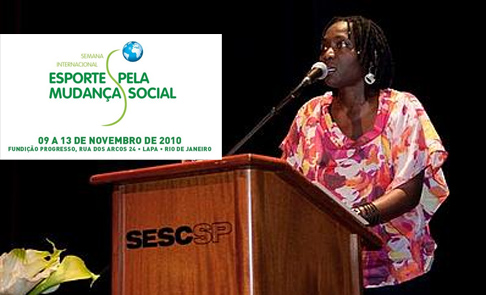 ISCA Latin America embrasses the opportunities for grassroots sport
Over 150 participants benefited from presentations from leaders of renown agencies, companies, universities and organizations such as UNDP, UNICEF, Brazilian Sports Ministry, Nike, Unilever, Homeless World Cup, Harvard University, Athletes for Citizenship Foundation and ISCA Latin America.
ISCA Latin American Chairwoman Maria Luiza Souza Dias presented the qualified and evidence-based work of SESC Sao Paolo. In a follow-up interview on ESPN Brazil television network, Maria Luiza highlighted the challenges and opportunities for grassroots sport related to the mega-events which Brazil will host in 2014 (World Cup) and 2016 (Olympic Games).
Marvin Radford, ISCA External Relations Manager, highlighted the role and importance of projects in developing national and international competences in sport for social change. Examples given included the Global Youth and Sport Forum which will take place in Johannesburg, South Africa during the second half of 2011.
The Sport for Social Change Network International Seminar was considered a success and plans are underway for the 2011 edition.