22/12/2011
Sport and Citizenship's European network on "Volunteering in sport"

Sport and Citizenship's "SPORT" project –supported by the European Commission within the framework of the "Europe for Citizens" program builds and runs five thematic European networks. Fairly natural and to ensure that the subject remains on the political agenda long after the close of the Year 2011, Sport and Citizenship decided to dedicate one of these networks to the study and promotion of volunteering in sport.

This network is a follow-up to Sport and Citizenship's work (publication of a journal in September 2009, involvement as a scientific partner in the «EuroVolNet» project led by ISCA, publication of a Special Edition of the journal in 2011) and comes in resonance with the EU agenda. It aims at exploring the perspectives of one of the sport major issues at European scale and promoting the exchange of good practices between EU Member States.

First of the Network events was on 15th December 2011 "Europe, sport and volunteering: towards the necessary development of synergies between stakeholder" organized in partnership with the Henri de Baillet-Latour and Jacques Rogge Olympic Chair in Sports' organizations management of the Faculty of Sport Sciences of the Université catholique de Louvain hosted by Université catholique de Louvain.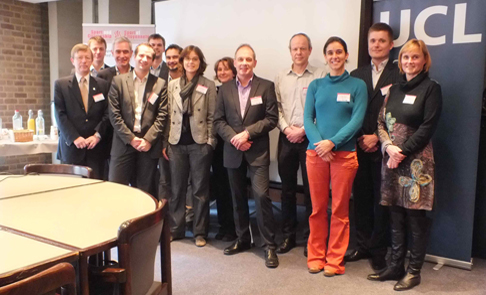 Participants from 7 EU countries discussed about the importance of developing synergies in times of crisis, about synergies we need and can build, about the specificity of sport volunteering and the answers provided by volunteers organizations and what kind of support we need from EU Institutions and what we recommend. All Network partners will together provide recommendations for a more efficient and effective European policy framework to support and promote volunteers, volunteering, volunteer involving associations and their partners in sport sector.

We recommend developing more coordinated and proactive approach to volunteering policy in sport that can ensure policy structure of all EU institutions and ensure that volunteering is made a priority within EU policy.

Minutes of the workshop can soon be found here: www.sportetcitoyennete.org