21/12/2010
Season's Greeting and happy 2011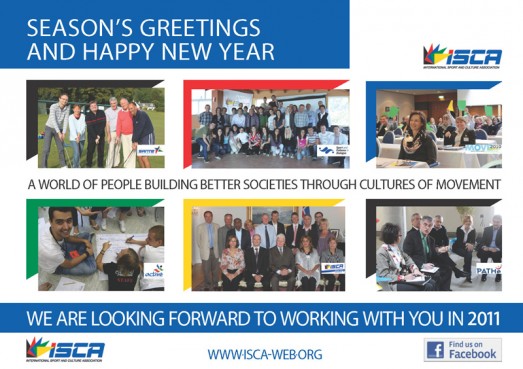 Greetings from ISCA President,
Mogens Kirkeby
2010 has been an extremely important year for ISCA and its members. We have implemented an incredible amount of international projects in the field of Sport. Among other the ¨PATHE – Physical Activity Towards a Healthy Europe¨ project concluded successfully and produced results that ISCA and its members can rely on when planning strategies for physical activity and health.
Moreover 2010 has been the start-up year for 2 other large-scale projects, namely ¨SANTE – Sport Action NeTwork of Europe¨ and ¨Sport and Cultures in Dialogue¨ that have enabled important partnerships between the numerous stakeholders in the Sport for All sector. The MOVE2010 Congress has been a demonstration of ISCA's willingness to build bridges between sport organizations and the public and private sector and we can already now look forward for a continuation of this effort in 2011.
A large number of youth activities, reaching from Brazil to Slovenia, from Denmark to Malaysia, including educational trainings fostering the social dimension of sport, its potential to enable active citizenship and integration have been implemented, and combined with ISCA's representation in the Council of Europe's Advisory Council on Youth substantiate ISCA's commitment to youth and sport around the world.
Politically, 2010 has been a very eventful year and ISCA has consolidated its position as a resourceful and reliable consultation partner towards a large variety of international organizations. The determination of European ISCA members to act on from a common political platform has made ISCA Europe a fast growing and widely recognized partner of the European Union Institutions.
The ISCA General Assembly 2010 called for higher ambitions for Sport for All in order to capitalize the full potential of the Sport for All sector as the largest civil society actor in the world.
This ambition shall be our driver for the years to come and we encourage all Sport for All organizations, ISCA members, partners and associates to join forces to capitalize on the strength of our sector and underline the societal gains of a well-working sport NGO sector.
Our time is now!
ISCA is with great delight and ambition looking forward to 2011. We hope that you and your organization will join us in one of the many activities planned.

We wish you all the best for 2011 and we are looking forward to working with you.

Sincerely,

Mogens Kirkeby
ISCA President