29/6/2016
Save the dates!
Get ready for the Journey of Hope, FlashMOVE and European Fitness Day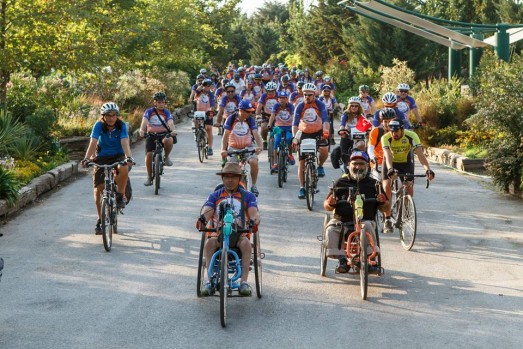 We spent the first half of the year avoiding the elevators and moving all around the continent during MOVE Week. And the summer months will find us working to prepare a cross border cycling tour (Journey of Hope), and Europe's biggest simultaneous flash mob (FlashMOVE) and most active day of year (European Fitness Day). With these three NowWeMOVE events featuring on the official European Week of Sport 2016 programme, there will be plenty of opportunities to find your move this autumn.
Journey of Hope: 18 August-17 September
This year's NowWeBike event is called "Journey of Hope", giving Europeans an opportunity to join any stage of the cross-border cycling tour they wish and promote physical activity, active transport and peaceful mobility while they ride. On 18 August, a Turkish team of cyclists will start their 31-day journey from Copenhagen, crossing the border of 7 countries (Denmark, Germany, Poland, Czech Republic, Slovakia, Hungary and Austria) and riding along 9 EuroVelo routes for a total distance of 2,530 km. On 10 September the tour will arrive in Kosice for the opening event of the European Week of Sport (EWoS), and the journey will finish on the last day of EWoS on 17 September in Vienna.
FlashMOVE: 10 September
The official opening event of the European Week of Sport will be happening across the whole continent at the same time. How? The fourth edition of the FlashMOVE will take place on 10 September at 11:00 C.E.T, where thousands of volunteers will take to city squares and other public spaces to do a surprise dance that will be sure to move to all passers-by. This year the FlashMOVE music and choreography will be led by ISCA and its members the Sports Union of Slovenia (dance) and Sport Malta (music).
European Fitness Day: 15 September
European Fitness Day will make 15 September the most active day of the year. Inspired by the UK's National Fitness Day, organised by ukactive since 2014, ISCA's partners, including ukactive, the German Gymnastics Federation, Sports Union of Slovenia, BG Be Active and Eurofitness, will invite their members, partners, physical activity stakeholders and the public to engage in the "most active day in Europe". Fitness centres, sports and health clubs will organise activities such as open doors and try-it sessions of dancing, martial arts, spinning, and much more.
All of these events are co-funded by the European Commission's Erasmus+ Sport programme and promote the #BeActive message. Look out for the official event websites, to be launched in early July.
Stay tuned and don't let our trees' leaves be the only thing moving this autumn.
By Maria Lourdes Gonzalez, ISCA