25/2/2011
SANTE Seminar in Cassino
More than 80 participants attended the seminar
SANTE Seminar in Cassino, hosted by University of Cassino, had one main title: ARE WE READY TO FIGHT FOR HEPA HUMAN RESOURCES AS PROFESSIONALS IN THE EU LABOUR MARKET?
Seminar secured a common understanding of the current situation on HEPA Human Resources in Europe, including statistics, barriers and opportunities for improving the status of HEPA Human Resources. More than 80 participants analyzed the vocational education and training (VET) strategies implemented in the HEPA sector both at national and European level as ground for the development of specific Life Long Learning strategies and shared occupational standards. Many best practices from the daily work of HEPA leaders, including both theoretical and practical perspectives were presented. Sante Seminar brought deeply discussion of the future perspectives and expected trends including the possibility of innovative partnerships.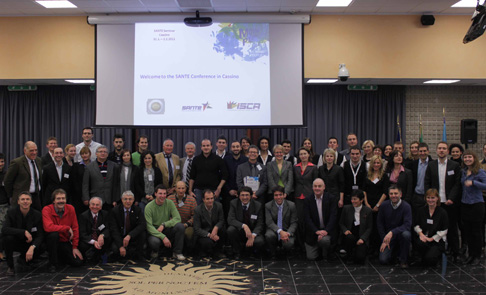 Sport learning communities in HEPA
One of the keynot speakers, Jean Camy from University of Lyon, shared with participants »how to make the next step towards «sport learning communities» in voluntary HEPA organisations?« By promoting the "voluntary sport culture", by recognising volunteering in sport, promoting sport volunteer "careers«, improving the management/governance of voluntary sports organisations, promoting sport organisations as "learning communities" and by promoting a "knowledge society culture" within the sport sector.
Seminar participants agreed that common step regarding the political suport and cross sectoral cooperation must be: to create a political support for a educational /national strategy on health enhancing physical activity in Europe and to involve actors from the governmental (incl. Ministry of Health), intergovernmental (incl. WHO), private, and sport sector in the process.