17/4/2018
S2A Sport partners launching a range of innovative products to support workforce development in Europe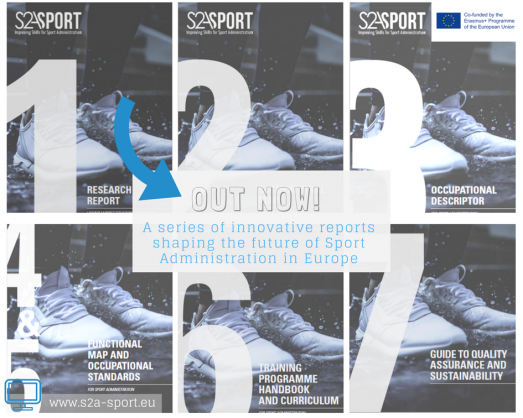 "Improving skills for sport administration in Europe is a crucial process in the development and professionalisation of the whole sport sector, and we should be proud to have pioneered a series of innovative outputs during the S2A-Sport project. The interest from the sector has clearly been demonstrated and we have developed together a solid foundation. The time is now for us all to work on the next steps towards sustainability and future actions!"
It is with this message that the S2A Sport partners, including ISCA, are launching the resources produced during the 30-month EU funded project.
The whole project has been carried out based EOSE's 7 Step Model and acted as a clear call to action to equip those working or volunteering in sport administration with the skills and knowledge that match their diverse roles in the sport sector.
The partnership is therefore thrilled to finally present to all stakeholders in the sport sector and beyond a series of innovative and interactive reports on sport administration, which can be read in conjunction with each other or as standalone documents. They include:
Based on the S2A Sport pilot European training event organised in Vierumaki, Finland, in September 2017 for 40 emerging sport leaders, we know that the approach developed has tremendous potential to develop reflective practitioners in sport administration, with self-refection skills hence contributing in return to the development of their organisations.
"We are really excited about the results of the pilot and are optimistic that the whole set of developed outputs will have a positive impact on sport administration in Europe and the success of sport organisations," Project Leader Aurélien Favre from EOSE says.
Opportunities for sport administrators in Europe to become equipped to turn strategy into action in sport and physical activity start now! Read our series of innovative outputs, share the news with other organisations and sport administrators using #Skills4Sport, #SportAdministrators and feel free to email us at [email protected] should you want to explore further opportunities to roll out the approach, learn more about the project and outputs or receive a printed copy of the documents.
The S2A Sport project was co-funded by the European Commission under the Erasmus+ Collaborative Partnerships in Sport programme.
*Full list of partners: European Observatoire of Sport and Employment (France), Université Catholique de Louvain (Belgium), National Sport Academy (Bulgaria), International Sport and Culture Association (Denmark), Sport Institute of Finland (Finland), European Federation for Company Sport (EFCS), Universita degli Studi di Cassino e del Lazio Meridionale (Italy), Mykolas Romeris University (Lithuania), Tennis Europe (Switzerland), Werkgeversorganisatie in de Sport (The Netherlands), EOSE Services (UK), University of Chester (UK).
Visit the official website of the project for more information: http://www.s2a-sport.eu/