30/6/2014
Romanian Federation Sport for All ready for MOVE Week 2014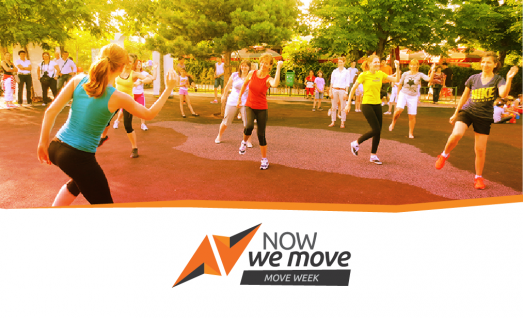 MOVE Week 2014's National Coordinators gathered in Birmingham this June for the official MOVE Week kick-off meeting. ISCA's Roxana Chiriac took the opportunity to talk to Mihai Androhovici, who is the Vice President of ISCA member Romanian Federation Sport for All, about how MOVE Week complemented his organisaton's promotion of grassroots sport in Romania and what he foresees for MOVE Week 2014.
Why do you think Romania needs MOVE Week?
This event fits us like a glove as a continuation of what we have been doing for more than 10 years. Every first week in October, Romanian Federation Sport for All has in its calendar the National Week of Sport for All. Two years ago in Brussels, when the possibility of a MOVE Week was first discussed, I mentioned that we have been doing this already and that year we were in our 8th year. Therefore, this moment was a very happy one for us, when we saw that Europe needed and wanted to do something similar. It fitted us like a glove.
Do you have a new strategy for MOVE Week 2014? How are the preparations going?
We will enter into the same collaboration with our local authorities and also with our partners, such as schools and private sport clubs, as last year. The private sport clubs are starting to become more and more recognised, as they offer a wide range of quality activities, so we want our members to go out and make the most of their services and activities. Moreover, this year we would like to orientate our strategy towards schools and universities, where a large number of young people are targeted, as well as the private sport clubs. This way, we will manage to include both the private and the state (public) sector.
Did you notice a change in Romania after MOVE Week 2013?
Yes. Besides our members, who are affiliated with the Federation, we saw a tendency for non-profit organisations, which are not sport affiliated, to get more active. We were contacted by them, even though they were not our members, and we found a way to provide them with all the necessary materials to implement their events. They registered as MOVE Agents on the NowWeMOVE website, wrote their objectives, their activities, the dates and organised their events. They appeared right in our own backyard, so we thought we had to do something together.
What is your goal for MOVE Week 2014?
First of all, we hope for financial support from the Ministry of Youth and Sport. Secondly, we want as many volunteers as possible in the country become MOVE Agents. We need to be more visible through a PR campaign, as it is easier to get into the online media; we want to go into this direction.
It is clear that Romania needs a change in terms of raising physical activity levels, but what is reassuring is that proud ISCA members such as the Romanian Federation Sport for All are active in this regard, and are working toward creating this change. The Federation has witnessed progress on its doorstep, with other local non-profit organisations raising to the challenge and taking a stance to bring physical activity back into the lives of their citizens. We look forward to seeing Romania's list of events and hearing their success stories for MOVE Week 2014.
The Romanian Federation Sport for All is an umbrella organisation for 42 municipal organisations and has been an ISCA member for 7 years.