11/11/2013
Post-MOVE Congress interview series:
Stefanie Burkert, World Federation of the Sporting Goods Industry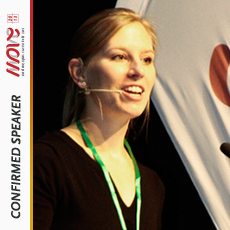 Stefanie Burkert, Project Manager at the World Federation of the Sporting Goods Industry (WFSGI), was a late replacement for the organisation's Secretary General Robbert de Kock at the MOVE Congress 2013. When the second day of the Congress got underway, she found herself not only in the spotlight during one of its most popular sessions, she also found herself answering questions from the seat of an exercise bike and riding about 14 km in between presentations.
Speaking during the literally innovative 'Leadership and innovations in a global market' session, Burkert underlined that the growing interest within corporate sector in promoting a greater uptake of physical activity is a win-win for both the industry and the average citizen.
"We, as the World Federation of the Sporting Goods Industry, promote physical activity," she began. "Why? Because physical inactivity is developing like a virus, and this is not only a health issue. This is also a real threat to our business. If people don't do sports anymore, we're out of business. But other than that, physical activity is a so-called 'best buy' for the prevention of NCDs such as cardiovascular disease or diabetes. Physical activity is the most affordable, most available and easiest solution to those kinds of diseases."
But the role of the industry representative is now stretching beyond attracting more people to get active through the products they sell, Burkert noted, as organisations such as WFSGI are grabbing opportunities to take charge as global advocates for sport and physical activity. WFSGI now collaborates with the WHO, UNESCO and the IOC on physical activity policy and, as a member of a non-communicable disease private sector advisory group, recently submitted a position paper to the WHO asking for a working group on physical activity to be established at the WHO Secretariat.
ISCA later spoke to Burkert about the emerging role of the World Federation of the Sporting Goods Industry as a "voice" for both the industry and public health, as well as her unique experience as a MOVE Congress 2013 presenter.
Q: You're here representing the World Federation of the Sporting Goods Industry. What is the vision of your organisation?
A: We act as the voice of the sporting goods industry and represent our industry towards the different UN agencies, sports federations, International Olympic Committee, or even governments which don't have a regional organisation in place. We do promote physical activity, and our industry is promoting products to encourage and inspire physical activity. Our vision is to live in a global world where everybody can conduct physical activity and sports without any constraints or barriers.
Q: In terms of advocacy, you told us during the Congress that you've recently been heard by the WHO. What is your key message to these big institutions?
A: Our key message is that physical activity is a key solution to NCDs like cardiovascular disease or diabetes, but also to mental health. And because it is the most affordable and available solution to be put in place, our message is to put more emphasis on the promotion of physical activity and to recognise us, as a private sector, as a public health partner.
Q: How can we turn this into concrete actions and political steps? That's a good message, but what can be done?
A: What our sporting goods industry can do is spread the news and motivate people to engage in physical activity. We can motivate through social apps. There are so many initiatives that we can do on the action level. But at the same time we need to set the framework for appropriate public-private partnerships, so we can create a social movement to make a change and bring back the fun to physical activity, but also to give the possibility to be physically active in your daily life, and that could also be through transportation or urban planning.
Q: Biking while speaking – what do you think of this innovation at the MOVE Congress?
A: First I was a bit sceptical because it's quite hot here under the lights. But, apart from the temperature, I really enjoy it and you get used to it. And I feel that you're not distracted at all; you focus more on what you're doing and it's relaxing. I feel good. I like it.