29/1/2019
Plovdiv's Pop-up Parks get thousands active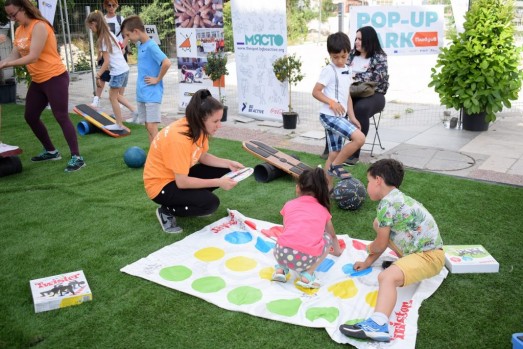 Last week we presented the NGO-city partnership that piloted a MOVEment Spaces "green space" initiative in Wroclaw, Poland. This week, we zoom in on the ancient city of Plovdiv and MOVEment Spaces partners BG Be Active and Plovdiv Municipality, who engaged several clubs in their Pop-up Parks initiative through their Department of Sport.
The partners embarked on the project with a range of interconnected goals. The municipality aimed for citizens to reconsider the importance of sport, motivate more young people to be physically active, and to promote volunteering in sporting events as a tool for developing a sense of responsibility and self-awareness.
BG Be Active wanted to use innovative methods, including elements of the Placemaking approach, to engage people in using public areas as MOVEment Spaces, and therefore be more physically active. Additionally they wished to promote the results of their initiative as a good example of an intervention in an urban space to promote active lifestyles, in order to motivate others to also follow their lead.
During the European Week of Sport "Pop-up Parks" were placed in two different spots, at the Youth Centre sport complex and also at the City Garden. The events involved an outdoor sport tournament, demonstrations by multiple sport clubs, and activities specifically targeting disadvantaged populations. In order to engage vulnerable and disadvantaged young people, who previously - for the most part - had a lack of motivation for such communal events, famous professional sports people were engaged, who were involved in motivational meetings where they shared their stories. During sport demonstrations several prominent Olympians also got involved.
The success of the implementation was shown by the fact that over 3000 people got involved, with almost 2000 of those being aged 18 and under. More than half of those involved were female, and almost 200 disabled people took part. But that was not the only success, informational campaigns enhanced the visibility of local sport on a myriad of levels, a group of 15 young people developed their skill-sets by being involved in the organisation of the event, alongside getting 30 young people from vulnerable groups involved in sports initiatives.
The collaboration between BG Be Active and the Municipality will continue after the project, with activities such as the Day of Sport in May, and Sport Week in September, set to take place again to ensure people continue to be active outdoors!
Vlad Fedorov of BG Be Active is convinced that the project, "has motivated participants to practice physical activity in a non-conventional way." And also noted that, "People were very eloquent in their feedback and expressed their hopes for the initiative to continue on a permanent basis. Complemented with sunny weather, open air and nature, 'Pop-Up Park' has given people a new template for staying active without the need to attend the gym or any other sport facility with entrance fees."
By Alexander Appleyard-Keeling, ISCA