20/8/2019
Open Streets Day is set to activate the European Capitals of Culture 2019:
Plovdiv and Matera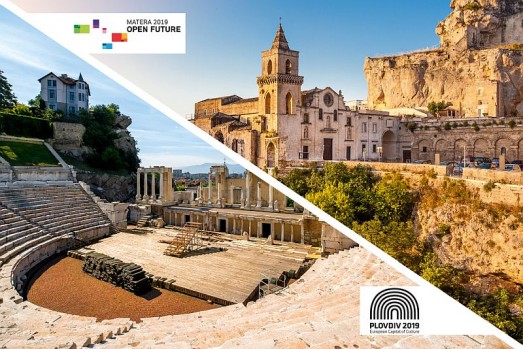 As the first edition of the international Open Streets Day is getting closer, numerous European cities are preparing interactive activities and events that will invite the residents to re-imagine an urban space. Among the seaside towns and metropolises, there are two special locations where the Open Streets Day will take place.
Plovdiv in Bulgaria and Matera in Italy proudly hold the title of European Capitals of Culture 2019, and are also gearing up to open their streets on 22 September.
The flagship event in Plovdiv will be co-hosted by the ISCA member BG Be Active, the Municipality of Plovdiv, and the Plovdiv 2019 Foundation. A part of the recently renovated boulevard Maritsa-South will be temporarily closed to the movement of vehicles and will instead be opened for the movement of pedestrians. The boulevard is planned to be divided into 3 zones with different activities: art zone, relax zone, sport and physical activity zone.
The residents and visitors of Plovdiv can expect to participate in workshops, picnics, fun games, painting, running and cycling activities and more. The sport zone will showcase activities with different levels of intensity, such as yoga, dancing, group workouts, and European Fitness Badge demonstration with an opportunity to sign up for the full test carried out by participating clubs.
Discovering forgotten streets through play and movement
The picturesque Matera, located in a remote corner of southern Italy and known as "the city of caves", is, perhaps, the country's best kept secret. Although, since becoming a UNESCO World Heritage Site in 1993 and the European Capital of Culture in 2019, Matera has become an increasingly popular destination.
The Open Streets Day hosted by ISCA member UISP Comitato Territoriale di Matera will encourage the residents and visitors of Matera to re-discover some "forgotten" streets through play, sport and movement. The programme aims to transform urban areas into spaces for people to get together, whether it is to practice sports or just hang out. The participants are in for a range of workshops, experiments and performances. The goal is to make one feel like the custodian, rather than simply a spectator of the urban space and the city.
Would you like your place to take part in the Open Streets Day alongside Plovdiv and Matera? Read the step-by-step guide for event organisers and join the global movement for cities that put people first!
Open Streets Day is supported by the Erasmus+ programme as an official #BeActive European Week of Sport event. Visit the official website at www.openstreetsday.com
By Marie Oleinik, ISCA