18/4/2018
One week to go until No Elevators Day!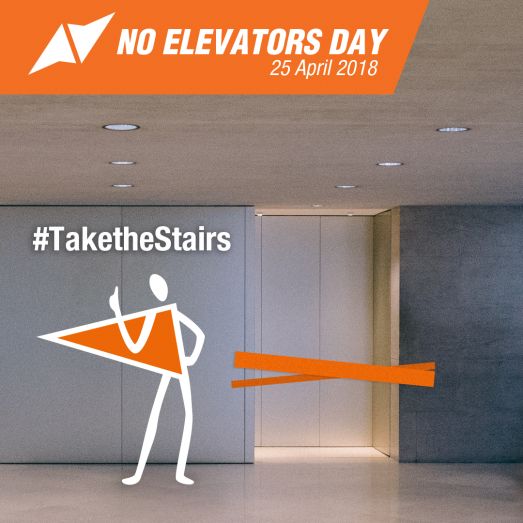 We're counting down to the fourth No Elevators Day, which will take place across the world next Wednesday 25 April. This year, events are being staged for the first time in India, Pakistan, Taiwan, South Korea, Malaysia, Zambia, Brazil, Mexico and Moldova.
It's easy to nudge more people in your office building or public spaces to be active and be part of an international movement promoting healthy lifestyles.
5 easy ways to get involved in No Elevators Day
1) Organise your own event and register it on the official webpage http://no-elevators-day.nowwemove.com/register/
2) Join the Facebook event at http://www.facebook.com/events/325999764572206/
3) Spread the word by supporting the Thunderclap via Twitter, Facebook or Tumblr https://www.thunderclap.it/projects/68472-no-elevators-day-2018
4) Climb some stairs on the day or close off and elevator or escalator and share your activities with the #NoElevatorsDay hashtag
5) Find an event near you and join in the fun http://no-elevators-day.nowwemove.com/noelevatorsday-events/
No Elevators Day events to look out for in 2018
Africa
Zambia
"Matilda Mwaba, the Executive Director of NOWSPAR Women in Sport will be appearing on the sports programme on ZNBC Radio 4 this Thursday 19, to present our participation in the #NoElevatorsDay," former ISCA volunteer Judith Solanas Sanchez reports from Zambia, where she is currently working with NOWSPAR Women in Sport. "On 25 April 2018, our team will take the stairs instead of the elevator at the Ministry of Sport, Youth and Child Development in Lusaka."
https://www.facebook.com/NOWSPAR-Women-In-Sport-121809036356/?fref=mentions
Asia
India
The Amazon Development Centre at Jayraj Orange Towers in Hyderabad has registered two events http://no-elevators-day.nowwemove.com/noelevatorsday/000_1010019
Pakistan
Kohsar Cricket Club's talented young players will promote healthy lifestyles by taking the stairs in different premises around the city.
Malaysia
UTAR University Malaysia is joining the initiative with their own take the stairs campaign.
Europe
Belgium
New ISCA member Sportdienst Arteveldehogeschool is organising and event and offering an activity tracker as a prize for the best slogan/quote that encourages the use of the stairs: https://www.facebook.com/sportdienst.arteveldehogeschool/
ISCA will meet 20 MEPs to promote No Elevators Day in European Parliament from 24-26 April. Look out for MEPs from your country in action on social media and see the highlights from last year's event here: https://www.youtube.com/watch?v=_jCS7w4dSgw
ING Bank will also organise a special event for No Elevators Day.
Bulgaria
11 events are officially registered in Bulgaria so far, and event organisers include NN Bulgaria (life and pension insurance), Amer Sports and the University of National and World Economy http://no-elevators-day.nowwemove.com/noelevatorsday-events/000_2018/4
Estonia
Two exciting events have just been announced in Estonia, with Estonian Healthy Trails and an event at the Tallinn TV tower (Estonia's highest building) planned: https://www.facebook.com/events/568927186810259/permalink/571897513179893/
Tallinn TV tower (Estonian highest building): https://www.facebook.com/events/484153468674061/ http://no-elevators-day.nowwemove.com/noelevatorsday/000_1010001
France
Fédération Familles Rurales Pays de la Loire is a regional office of a national initiative dedicated to societal developments relating to families and their needs (transport, housing, children, schools and health), and it will host a No Elevators Day event this year.
https://www.famillesrurales.org/pays_de_la_loire/Contenu.php?article=49&arbo=54#61
Germany
ISCA member DTB (German Gymnastics Federation) has already started promoting No Elevators Day, so we can't wait to see their activities next week!
Ireland
The Insurance Institute of Ireland is doing a No Elevators Week at their office.
The Irish Heart Foundation is participating to No Elevators Day with their 70 staff members across 3 floors.
Latvia
ISCA member LTSA (the National Sport Association of Latvia) plan to engage offices and ministries on the day – last year they had the Ministry of Finance as a participant. They are also holding a No Elevators Day video competition
http://no-elevators-day.nowwemove.com/noelevatorsday/000_1009854
Lithuania
Klaipeda City's Public Health Office is ready to stage their No Elevators Day event: https://www.facebook.com/biuras/?fref=mentions
http://www.sveikatosbiuras.lt/lt/pradzia/kvieciame-prisijungti-prie-tarptautines-iniciatyvos-minejimo-diena-be-lifto-16271.html
And a message from Vilnius City Municipality: "Vilnius City Municipality will celebrate this day too! NO ELEVATORS. JUST STAIRS."
ISCA member Nemunas and its members will close off elevators in the Parliament, Ministries of Agriculture/Foreign Affairs, supermarkets and other buildings in Vilnius and others members' cities. http://lkska.lt/
Netherlands
Maastricht University is hosting a fun No Elevator Pitch by a professor in Human Movement Sciences and professor in Psychology. Students will walk the stairs with them in encouragement.
Sportflevo: Hundreds of runners are coming to WTC in Almere in Flevoland, ready to run as fast as possible 600 steps up. In addition to the individual race for adults, there is a special kids' run (200 steps), kids' football run (200 steps with football challenges along the way), a business run and a run for firefighters. https://www.sportflevo.nl/wtc-trappenloop-ruim-600-treden-omhoog/
Slovakia
We are glad to announce that Matej Tóth SVK (20 - 50km Walk), the Slovak Olympic champion in the 50 km walk will support the 4th edition of #NoElevatorsDay! https://www.facebook.com/Matej-T%C3%B3th-SVK-20-50km-Walk-129479057078395/
Slovenia
Faculty of Health Sciences in Maribor, Slovenia: "Measuring blood pressure and heart rates will be some of the activities proposed for No Elevators Day alongside some other fun, original activities!" http://www.fzv.um.si/en and health clinic
The health centre of Dr Adolfa Drolca Maribor is inviting patients and visitors to take the stairs.
Spain
Deporte para la Educación y la Salud: "We hope to engage about 100 more schools through this action, which will result in 50 to 60 thousand children acting as No Elevators Day agents before and during the day."
https://www.educacondeporte.org/
Leon City will promote the event to their 200,000 inhabitants.
Mutualia, a mutual building society in the Basque autonomous community is engaging their centres across the region: https://twitter.com/mutualiamutua
Switzerland
Kantonsspital Winterthur is organising No Elevators Day for their employees (3200), patients (500) and visitors. They are also holding a conference about health-enhancing physical activity: Modern Lifestyle – Minimising Risks and Detecting Chances.
UK
Active Working: On Your Feet Britain (27 April) is a social media partner of No Elevators Day in 2018 with the two events taking place in the same week. http://onyourfeetday.com/
Active Newcastle: https://www.activenewcastle.co.uk/no-elevator-day
The City of Glasgow College are integrating No Elevators Day into their Health Day star actions on 25 April.
Latin America
Mexico
The Towerrunning World Association in Acapulco and Mexico City is promoting No Elevators Day in connection with their event: https://www.facebook.com/TowerrunningWorldwide/?fref=mentions
http://www.towerrunningmx.com/