26/4/2017
Now We Take the Stairs in the European Parliament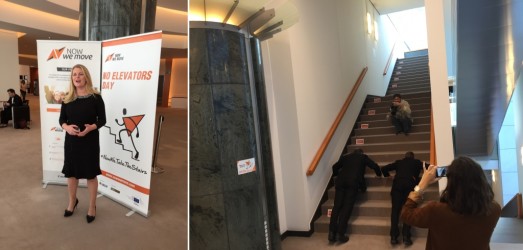 The European Parliament in Brussels is a building with a lot of elevators and some of Europe's most high profile supporters of the NowWeMOVE campaign. So it was a natural choice to make a special visit to the "capital of the EU" to mark the third No Elevators Day today.
Nine Members of European Parliament (MEP) joined us in boycotting the elevators and taking the stairs and challenging their colleagues to follow suit.
British MEP Emma McClarkin from the European Conservatives and Reformists Group says that she supports No Elevators Day because likes to motivate her colleagues to squeeze physical activity into their day by using the stairs.
"I say take those stairs, reach for the top and get that exercise in – get those extra paces into your day. So I think No Elevators Day is a marvelous idea. And when somebody always asks me what's the fastest way to the top, it's walking up an escalator. Don't just stand still, be active!"
The photos of above give a sneak preview of nine videos interviews with EU Sport Intergroup members Hannu Takkula, Bogdan Wenta, Marc Tarabella, Emma McClarkin, Anneli Jääteenmäki and Sean Kelly, as well as UK MEP Julie Ward and Danish MEPs Christel Schaldemose and Morten Løkkegaard.
In addition to their support for No Elevators Day, we heard their thoughts about how physical activity promotion has advanced since 2015, when ISCA revealed that physical inactivity was costing Europe a staggering €80 billion per year (see the Economic Cost of Physical Inactivity in Europe report), and the next steps in the EU's integrated approach to sport and physical activity policy.
By Rachel Payne, ISCA