12/3/2015
NowWeMOVE National Coordinators share success and inspiration in snowy Sofia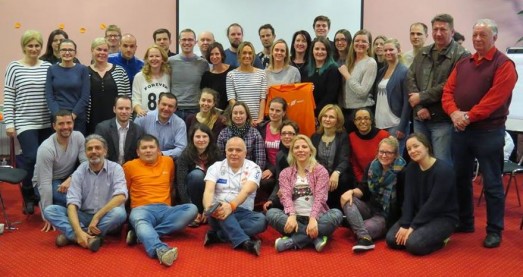 From 6-8 March 2015, 50 participants from 33 different organisations, including 28 National Coordinators representing 32 European countries, met in snow-covered Sofia in Bulgaria to share ideas and empower each other's efforts to get more people in their countries physically active. The main topic on the agenda was the NowWeMOVE campaign and, specifically, how to measure the campaign's impact in 2014 and share these results in effective ways.
The three days of interactive discussion were packed with inspirational presentations of good practices from 2014 and workshops on fundraising, creating partnerships, digital marketing, public relations, press relations and other strategic tips delivered by ISCA staff and the new NowWeMOVE PR team, Salve.
The coordinators left Bulgaria motivated to implement what they had learned within their respective countries, as Serbia, Montenegro and Srypska's National Coordinator, Marina Ivanovic, explained:
"The atmosphere at the meeting was inspiring. There were many new faces, which was great and refreshing for brainstorming and networking. We gained new knowledge about marketing, and how important PR and media attention are for us to succeed in our common goal. The fundraising workshop was also useful for us to identify the sources and target sponsors."
The weekend also showcased the great Balkan hospitality, as the participants had the chance to visit a traditional Bulgarian restaurant where, besides tasting the delicious food, all guests were entertained with traditional dances from the Balkan region and were even invited to join in! Now that is what we call Finding Your MOVE!
Gathering with like-minded advocates for active living prompted the participants to reflect on why they are part of the NowWeMOVE campaign and what the motivating factors are for their organisations to contribute to the promotion of physical activity. MOVE Woman
First-time National Coordinator, Damian Witkowski from Poland, shared why he wants to be involved in Europe's biggest physical activity campaign:
"I'm a big fan of sport and I want to show people how much fun they can discover through physical activity. MOVE Week is the best vehicle to do this for two reasons: First, we recruit MOVE Agents, people who organise sport events and have the same passion as us; and the second reason is that people will want to be more active if they can find a physical activity that is suited to them. MOVE Week is an important part of the bigger picture in Europe, so by taking part I can contribute a piece of success to something big."
The meeting was great success and with all the new ideas and things learned the National Coordinators are ready to MOVE their countries and bring us closer to the vision of 100 million more Europeans MOVING!
Keep on moving!
By Vizma Bramane and Marie Grillet, ISCA