11/11/2015
NowWeMOVE campaign shortlisted for European Excellence Award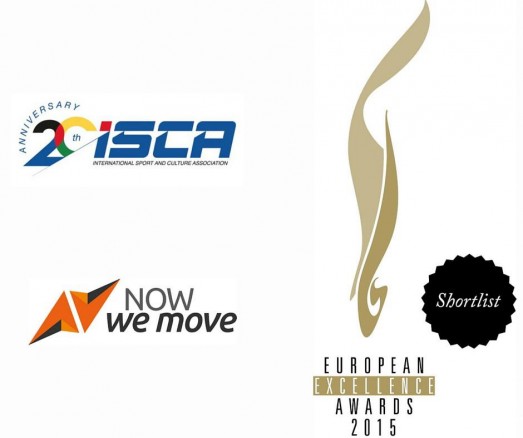 ISCA has been shortlisted alongside Ericsson, Adidas, Southampton Football Club and Norwegian sportswear brand Kari Traa for a European Excellence Award in the category of Sports and Lifestyle for its NowWeMOVE campaign.
The European Excellence Awards, hosted by the magazine Communication Director, is one of a few prestigious awards recognising companies', consultancies', associations', institutions' and NGOs' outstanding achievements in campaigning and communicating their brands across Europe. There are 60 award categories spanning sectors from transport to telecommunications to entertainment and culture, and the awards will be presented in Stockholm, Sweden, on 10 December 2015.
In the timeframe the awards are based on (October 2014-September 2015), the NowWeMOVE campaign expanded to a year-round calendar of activities, including the European Panna Tour, No Elevators Day and NowWeBike, and the fourth edition of the pan-European MOVE Week saw 1.8 million people participating in 7125 events in 1794 cities in 38 countries. The NowWeMOVE campaign and MOVE Week concepts have also been rolled out successfully in Latin America.
NowWeMOVE Campaign Manager Laska Nenova says that she is proud of the nomination and that the award would be a tribute to everyone involved in the campaign – from the staff to the partners and volunteers implementing the activities in their communities:
"On the 10th of December we will know if we will be the winner in the Sport and Lifestyle category – I really hope that we will do it. My hope is not because of the joy of winning, but because the award will be a great acknowledgment of the excellent work we do, as well as the amazing work of our National Coordinators," she said.
ISCA launched the NowWeMOVE campaign in 2012, with the aim of bringing the sport for all sector and a variety of other sectors together to tackle the physical inactivity epidemic across Europe. The campaign's vision is for 100 million more Europeans to be active by 2020.
See the full list of shortlisted projects here
Find out more about the NowWeMOVE campaign