13/1/2016
NowWeMOVE calendar for 2016 takes shape:
MOVE Week springs to May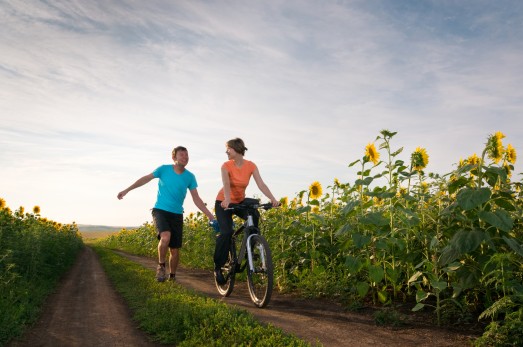 Building on successful trials of new initiatives in 2015, the NowWeMOVE campaign is expanding its all-year round activity even further in 2016. The campaign, initiated by the International Sport and Culture Association (ISCA), is planned to include more initiatives targeting European citizens and promoting the importance and benefits of the regular physical activity. The expansion of the campaign will also continue in Latin America.
"In 2015 we invested significant resources to build and strengthen the brand and identity of the NowWeMOVE campaign," Laska Nenova, the NowWeMOVE Campaign Manager for Europe, explains.
"Our goal for 2016 is to set an all-year round series of activities instead of focusing on one big event in the year. Apart from the citizens in the participating countries we are also going to target some specific groups such as schools, fitness communities, office workers, bikers, etc., as endorsers of regular physical activity."
The 5th edition of NowWeMOVE's signature event MOVE Week is scheduled for the first time in the spring (23-29 May 2016). So far the initiative has taken place in September, however ISCA is trying a new approach to get more inactive people involved outdoor physical activity in the beginning of the spring and summer seasons, when it is more likely to encourage a change in their habits. Additionally, placing MOVE Week in spring will remove the confusion some have expressed about the overlap between MOVE Week and European Commission-led European Week of Sport and thus enable ISCA to fully continue its support of the Commission's #BeActive initiative. MOVE Week in Latin America will remain in September, and the dates will soon be confirmed.
MOVE Week, which is the largest in its scale bottom-up grassroots sport initiative in Europe, went global in 2015, as 5 countries in Latin America joined in for the first time. The 2015 MOVE Week recorded its best outreach so far covering 43 countries in Europe and Latin America with more than 11,500 events in over 2,100 cities (1,809 in Europe). In Europe more than 1.8 million physically active people registered to take part in MOVE Week events, and Latin America tallied over 1.5 million participants in 6,100 events.
The European MOVE Week's associated FlashMOVE open-air dance event, however, will stay in September when the European Week of Sport is taking place. In 2015, the FlashMOVE dance involved participants in more than 60 European cities. The choreography and style of the flash mob are about to be announced in the spring of 2016.
The second edition of the European No Elevators Day, launched by ISCA in 2015, is planned to take place on 13 May 2016. It is an open initiative inviting citizens, corporations, academics and institutions to join in by offering inhabitants and workers in high buildings to take the stairs and move a bit during their busy days instead of taking the elevators. The launch of No Elevators Day in 2015 inspired thousands of Europeans in 20 countries to take the stairs and find a way to be active during a regular business day.
In the summer of 2016, ISCA and its partners will schedule their second cross-border biking event, following the success of the NowWeBike event in 2015. A team of recreational cyclists covered 2,700 km and 14 countries on its way from the Turkish city of Mugla to the opening of the European Week of Sport in Brussels, Belgium.
The new elements of NowWeMOVE campaign in 2016 are the European School Sport Day and the European Fitness Day, initially planned for the end of September. Both projects are part of ISCA's MOVE Transfer program encouraging the sharing of best practices among ISCA members. The School Sport Day has a long background in Hungary, taking place there since 1987. In 2015, there were 2 other pilot countries where the initiative took place, while in 2016 it is going to be organised on a larger scale across ISCA's European network. The European Fitness Day is based on an initiative implemented by UKActive, which will be transferred to other European Countries in 2016.
For more information on NowWeMOVE campaign in 2016, please, visit http://www.nowwemove.com/
For more information on MOVE Week, please visit http://www.moveweek.eu/
For contacts and further inquiries: [email protected]
Laska Nenova, NowWeMOVE Campaign Manager - Europe: +359 888 524 158