3/5/2016
No time for physical activity?:
No Elevators Day highlights an easy way for busy people to get active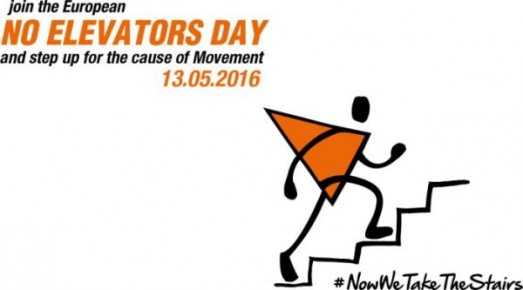 Press release - Copenhagen:
On 13 May 2016 the International Sport and Culture Association (ISCA) and its local partners will stage their second European No Elevators Day. The day will see organisations, institutions, schools and individual citizens sealing off elevators across Europe as part of ISCA's NowWeMOVE campaign promoting physical activity.
Lack of time is the most frequent excuse Europeans make for not being physically active. No Elevators Day shows that opportunities for busy people to get moving are all around them. Getting 15 minutes of their recommended daily dose of exercise can be as simple as taking the stairs rather than the elevator or escalator throughout the day.
ISCA, its partners and members have extended an open invitation for people to join No Elevators Day by voluntarily closing some of the elevators and/or escalators on their premises on 13 May. Those who register online can download free resources to help them seal off their elevator or escalator and raise awareness of the day. All activities under No Elevators Day title will be voluntary and take into consideration the accessibility requirements for people with disabilities and medical conditions.
High profile supporters of No Elevators Day in 2016 are expected to include:
Maltese Parliament/SportMalta are planning to film a No Elevators Day video to share on social media from 12 May
Danish Parliament is expected to close off one of its main elevators on 13 May
The Belgian Ministry of Finance has also expressed its support for the day
Hungarian Ministry of Human Capacities (responsible for sport), and the House of Sports (home to several national sport federations) in Budapest on 13 May
Ministry of Youth and Sport headquarters in Vasile Conta, nr 16, Bucharest; Ministry of Youth and Sport in the city of Brasov on 13 May
County of Međimurje in Croatia (including the Institute of Public Health, general hospital and secondary school) on 13 May
Quote from NowWeMOVE Manager for Europe, Laska Nenova: "It was really encouraging to see how many Europeans embraced No Elevators Day last year. We had supporters in 60 cities and 21 countries around Europe – from regular citizens to local health and educational organisations, corporate CEOs, ministers and governors, as well as politicians from the European Parliament and the European Commission. Together they created a social media buzz using the #NowWeTakeTheStairs hashtag to share their photos from the day. So we expect even more people to step up to promote physical activity this year."
No Elevators Day is part of the NowWeMOVE campaign supporting the EU's #BeActive.
For more information on No Elevators Day and the events registered please visit:
http://no-elevators-day.nowwemove.com/
http://no-elevators-day.nowwemove.com/noelevatorsday-events/
Follow the day on Twitter
https://twitter.com/isca_tweet
#NoElevatorsDay #NowWeTakeTheStairs
Press contacts
Rachel Payne, ISCA Communications Manager: [email protected]
Laska Nenova, NowWeMOVE Campaign Manager: [email protected]