9/5/2018
No Elevators Day ambassador challenges limitations of disability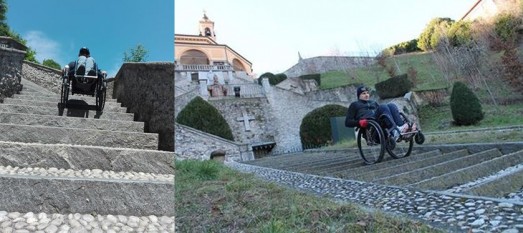 Photo: Albanian Paralympic champion Haki Doku shows us how he celebrated No Elevators Day this year.
The increased international visibility of this year's No Elevators Day, on 25 April, means that more people are aware of the core message the event hopes to promote, that simple, small lifestyle changes to your everyday routine can make a big difference to your activity levels, and in turn your health. With more people than ever hearing about No Elevators Day it also means that we at ISCA have naturally received more questions about the event than ever before!
One of the most common questions encountered related to disability, and how it can be accommodated into the ethos of No Elevators Day. The answer is simple, in that while the event uses the powerful, visible message of "closing" elevators and escalators to show people that such relatively small changes to our daily routines can make big differences, it is outlined that "All activities under the No Elevators Day title are voluntary and should take into consideration accessibility requirements for people with disabilities and medical conditions," as we understand that for some people, elevators and escalators are a necessity to be able to go about their daily lives.
However, around the world there are numerous people challenging the general perceptions and limitations of "disability". Just last month for Limb Loss Awareness month, double amputee Mandy Horvath climbed the 8590ft, 2744 step Pikes Peak in Manatou Springs, Colorado. Albanian Paralympic athlete Haki Doku travels the world descending and ascending stairs in his wheelchair, and holds the World Record for most stairs descended in a wheel-chair within an hour, with 2404. As an ambassador of No Elevators Day in 2018, he shared his photos with us, which you can see above.
Furthermore, advancements in prosthetics have meant that a far greater range of movements can now be carried out, as proven by Boston marathon bomb survivor Roseann Sdoia, who last year completed the 1576-step "Empire State Building Run-up", to the top of the New York landmark.
Awareness is the key word. Whether you can climb zero steps or 1000, No Elevators Day is simply about showing as many people as possible from across society that getting active and healthier does not require drastic changes, and can be accommodated within people's busy daily lives. It might be that avoiding using elevators or escalators is not an option for any number of reasons day-to-day, be that due to disability, a lack of stairs, or simply that you live on the 20th floor, which is an unappealing climb after a long, hard day! But there are numerous other ways to be more active on a daily basis, and finding the way that works best for you is the most important thing!
By Alexander Appleyard-Keeling, ISCA