1/5/2019
No Elevators Day 2019 climbs to new heights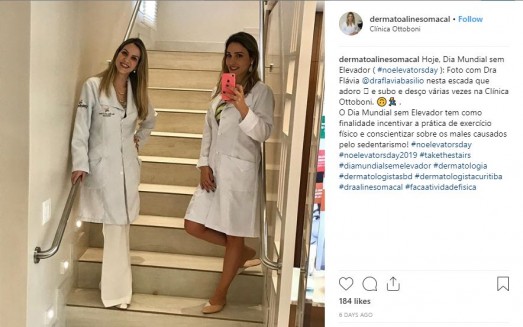 On 24 April communities in over 40 countries across 5 continents stepped up to a healthier lifestyle by participating in the global No Elevators Day.
The 5th edition of the event turned out to be bigger than ever before. This year No Elevators Day reached Costa Rica, Peru, Georgia, Russia, Kyrgyzstan, Mongolia, India, Lebanon, Oman, Norway, Switzerland and Zimbabwe for the first time, encouraging even more people to energise a busy day.
What inspires event organisers like the Georgian Ministry of Education, Science, Culture and Sport, media agency Burston, Cohn and Wolfe, physio therapy institutes such as Clínicca Ottoboni in Brazil and the Institute for Therapy and Rehabilitation in Switzerland, as well as Sport Flanders, WHO Europe, Active Essex, Towerrunning in Mexico and Germany, and wheelchair stair-climbing ambassador Haki Doku – among many others – to take part?
"No Elevators Day is a 'to go' campaign - meaning it is very easy for our members, partners, individuals and as well for private companies and public institutions to implement. It is not sport, but a physical activity campaign which has the capacity to reach places we have never been before," ISCA President Mogens Kirkeby says.
"It has the capacity start a dialogue on daily physical activity with this low threshold activity – simply climb the stairs instead of using the elevators."
In addition to the settings mentioned above, the benefits of stair-climbing and physical activity were promoted in numerous office buildings, schools, universities, and even in Salzburg Airport, reaching citizens who may be not so interested in getting active otherwise.
Apart from No Elevators Day, 24 April also happened to be the start of European Immunisation Week, so ISCA and WHO Europe came together for a flagship event to work towards the UN's Sustainable Development Goal 3: "Good Health and Well-being". As a result, UN City's employees were able to find out more about the benefits of physical activity and vaccination in disease prevention and enjoy a day full of fun and educational activities, such as a fitness assessment, parkour and skiing workshops.
From morning to the evening, people from all over the world were eager to share their No Elevators Day highlights on social media, once again proving how easy it is to #FindYourMOVE.
The snapshots below feature some of the highlights.
By Marie Oleinik, ISCA