11/4/2019
No elephants in the room?
Biases on corporate partnerships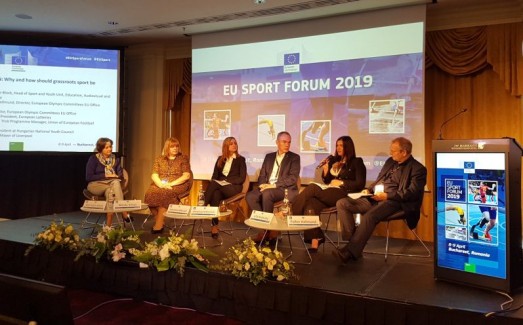 Comment by ISCA Secretary General Jacob Schouenborg.
"Fast food companies should not be associated with grassroots sport!" This is an argument that I hear quite often, if there is a discussion on the role of corporate partnerships in the grassroots sport sector. The same can be heard of alcohol, tobacco, and sugary beverages.
This week at the EU Sport Forum, a major gathering of EU sport political stakeholders, we also heard the same argument when it comes to illegal betting companies. The argument was made by Hansjörg Höltkemeier, President of European Lotteries, in the session on "Why and how should grassroots sport be financed?". The reason Hansjörg put forward was that illegal betting operators limit the public income of state-owned, state-controlled or state-taxed betting agents, and therefore the income for grassroots sport which receive the bulk of lottery revenues. (In fact, the argument might as well have been made for health reasons, as evidence is now growing that gambling addiction is a serious health threat. But that argument would not be very helpful for the future of controlled sport betting, obviously.)
But this one mention of corporate sponsorship during the Forum was the only time the topic was brought up in the debate. And that is puzzling. The study on "The funding of grassroots sport in the EU", commissioned by the EU and published in 2013, showed that sport organisations expect the income from sponsorship to no less than double in the near future. No other income stream is expected to grow at that rate.
So why was the topic of corporate sponsorship not addressed in a session dedicated to the theme of future funding for grassroots sport?
I would speculate that this is because there is a bit of a bias among the EU Sport Forum organisers and audience. This is a public sector (EU) organised event. The audience is to a very high degree non-profit or public sector representatives. And obviously, public funding IS the biggest external contributor to grassroots sport funding today, as the above study also shows. Everyone in the room (me included) would like it to remain that way, given the societal benefits of grassroots sport.
There may also be a bit of anxiousness about the topic of corporate partnerships. As the above quote and examples show, the debate very often gets quite heated and difficult, as it points to some real, ethical dilemmas. But it may not be wise to turn a blind eye to this debate if we want to make progress.
Finally, I think the debate was maybe not taken for the simple reason that we don't quite know what to make of it. Yes, there are potential ethical dilemmas. And yes, there is an identified need for further income streams for grassroots sport. But there may NOT be quite enough evidence, good examples and guidance on the partnerships between corporate partners and grassroots sport organisations to actually have an informed debate about it. It will too easily become another polarised debate with strong opponents of unhealthy sponsorships on the one side, and some more moderate viewpoints on broader partnerships on the other.
I would conclude that private sponsorship may have been the "elephant in the room". One of the problems was that the elephant – in the form of corporate partners for grassroots sport – was not even present (or probably even invited) into the room in the first place.
I think that is a pity. I find that there is very little transparency on these partnerships. And there is little information available about what the partnerships involve practically and financially, as well as the critical success factors and the main problems encountered. This may partly be due to the fact that the organisations involved (on both sides) consider the partnerships to be a space of competitive interest and therefore share very limited information on their approaches, successes and financial implications. Equally, when failure or challenges occur, it is obviously not easy to share that information, especially in a field where there are also many ethically-oriented opponents to partnerships as described – failures can lead to enhancing the criticism of the partnerships in the first place.
I would argue that we do not have enough focus on this area. We claim that cross-sector collaboration is the key to the future promotion of grassroots sport. Yet we do very little to understand yet alone support collaboration with the corporate sector. And this may well mean that important opportunities are lost. Not just for financing, but for partnerships that are building on mutual strengths, and that are important for the wider promotion of grassroots sport and physical activity.
Why don't we look more into these partnerships? Why don't we establish a more informed debate? I am not saying that corporate partnerships are necessarily good. Neither am I saying they are bad by definition. But we need more information, examples and guidance to help evolve our sector and its mission.
Is there a role to play on the European level? I think so! I would suggest that we look at the example from Canada, where ParticipAction established a "Partnership Protocol" to give this exact guidance to the grassroots sport sector. We should come together, build on that core good governance value of transparency, explore corporate partnerships and offer advice on how to tackle the dilemmas and opportunities.
Let's establish a European Partnership Protocol. The elephant in the room needs addressing.
Photo: Laura-Maria Tiidla, ISCA