22/3/2018
New Eurobarometer on physical activity in the EU published today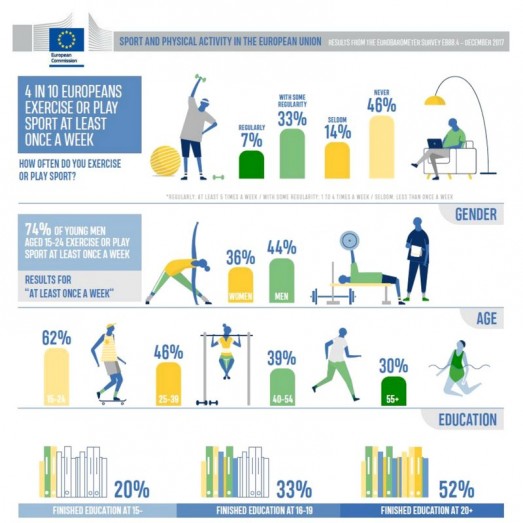 Inofgraphic: European Commission.
The Special Eurobarometer 472 on Sport and Physical Activity was announced at the EU Sport Forum in Sofia, Bulgaria today, revealing that the proportion of EU citizens that says they never play sport or exercise is up from 42% in 2014 to 46% in 2017.
The new Eurobarometer on Sport and Physical Activity shows that levels of physical activity and sport participation have generally stagnated across Europe. What's more, there is a clear social slant to the inactivity levels in that citizens from lower social-economic groups are significantly less active that those who are better off.
"It will take years to get more people to be active," Tibor Navracsics, the EU Commissioner for Education, Culture, Youth and Sport, said in his opening speech at the 2018 EU Sport Forum in Sofia.
"The gradual negative trend we have seen [in Eurobarometer's results] since 2009 and 2014 is continuing. Bulgaria is an exception. More Bulgarians are active than before, so we should learn from you."
If we indeed take Bulgaria as an example from the NowWeMOVE campaign, it took two-three years for ISCA member and NowWeMOVE National Coordinator for Bulgaria BG Be Active to see positive results from their efforts. Bulgarians' participation in NowWeMOVE events grew significantly from the first edition in 2012 to 2014, when MOVE Week Bulgaria was nominated for an Eventex Award. Bulgarian MOVE Agents remain some of the most active in the campaign.
Other countries where positive correlations can be seen between engagement in NowWeMOVE and our members' activities and reduced inactivity rates are Malta, which dropped from 75% inactivity to 56%, and Cyprus, where the proportion decreased from 54% to 46%.
Our actions are making a difference
The latest Eurobarometer figures give a clear message that there is a need now, more than ever, to keep doing what we've been doing from the bottom up to tackle growing inactivity rates.
The challenge is that many sports make the threshold too high for inactive or 'seldom' active people to start exercising. Lower threshold activities are needed to make physical activity more accessible and appealing to these people, such as walking, cycling and taking the stairs as part of their everyday movement from A to B.
No Elevators Day this 25 April is raising awareness of this simple, but effective way of putting physical activity into people's daily routines.
MOVE Week is also continuing to promote fun and innovative ways of being active. The next edition runs from 28 May to 3 June.
You can make a difference: register as a MOVE Agent to tackle growing inactivity rates around the world.