22/1/2021
MOVE Week Latin America proved:
Digital environment is not only a challenge, it's an opportunity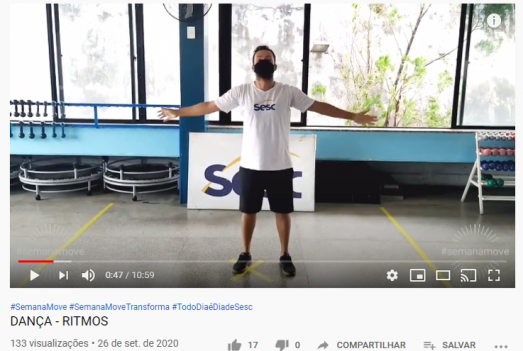 "Fortunately, despite the challenges we faced this year, the results exceeded our expectations." With these words from Maria Luiza Souza Dias, Sesc Manager of Physical Sportive Development and ISCA Vice President, we present a recap of the 2020 edition of the MOVE Week Latin America.
MOVE Week 2020 in Latin America, known as Semana Move in Brazil and Semana Muévela in the Spanish-speaking countries, took a different shape from the seven that preceded it – but it did not lose its popularity as a result.
The organisers focused on bringing the activities into the digital environment, creating multiple events on 19-27 September that aimed to encourage people to be more active. Over 200 online activities were carried out in Brazil alone, and even more were published on social media channels in 10 countries across the continent – including, but not limited to, functional training, dance lessons, a "triathlon at home", as well as public talks and podcasts.
With impressive numbers such as more than 27,000 views on YouTube, 18 million people reached on Facebook and 460 million on Instagram, MOVE Week continued its success story in the digital space in Latin America in 2020.
COUNTRIES PARTICIPATING IN MOVE WEEK LATIN AMERICA
Argentina, Brazil, Chile, Colombia, Costa Rica, Honduras, Mexico, Peru, Dominican Republic and Uruguay.
By Maria Malyshkina, ISCA