25/10/2017
MOVE Week Latin America celebrated with over 10,000 events in 13 countries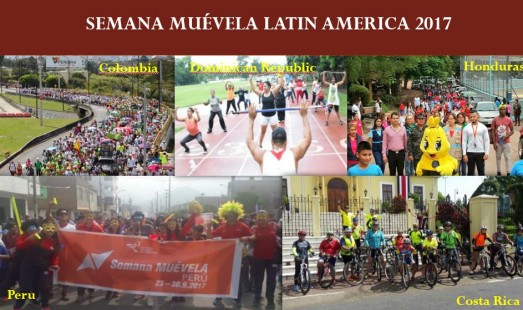 MOVE Week in Latin America (Semana MOVE Brasil in Brazil and Semana Muévela in other countries) was celebrated in three new countries from 23-30 September 2017 and tripled the number of activities offered across the continent.
The rapid growth of the NowWeMOVE campaign in Latin America is a testament to the work of ISCA member Sesc and 46 of their partner organisations in Brazil in building a following for MOVE Week and Move Brasil since 2012, as well as the 28 partners who have brought the week to life in 12 other countries. This year, as well as Brazil, Semana Muévela took place in Argentina, Chile, Colombia, Costa Rica (new), Cuba, the Dominican Republic, El Salvador (new), Honduras (new), Nicaragua, Peru, Uruguay and Venezuela.
Latin Americans could choose from at least 10,091 activities in 789 cities, from an evening of cycling on 23 September (with 1,300 participants) to basketball, surfing, tennis, skipping, running, dance, yoga, traditional games and new physical activities throughout the week. The Latin American MOVE Agents ("Movers") also organised training workshops for teacher in public schools, as well as community "busy bees" to help decorate and maintain local sport facilities.
This year, Sesc noticed more initiative from the Movers in organising their own activities for Semana Muévela. ISCA's Youth on the MOVE project has also trained a group of young movers to organise events in their own cities, which has contributed to the growth of MOVE Week in Latin America.
"Small attitudes with great intentions are capable of changing the reality of those around us," said Youth on the MOVE participant Paula Asbahr from Instituto Barrichello Kanaan in Brazil.
"Participating in Youth on the MOVE and developing actions for MOVE Week brought me strong this affirmation, and considering this action turned into a permanent project on physical activity for women."
Colombia participated for the third year in a row, and Carol Castro from Universidad Manuela Beltrán shared her motivation for taking part.
"Knowing that we are increasingly coming closer together to promote physical activity has renewed and reaffirmed my commitment to mobilisation. And when mobilising those who find me on the road, I am convinced that every day we are adding movers, and the network will continue growing!"
Karen Lorena González from SENA (Santander Branch) in Colombia said that "Participating in the MOVE Week 2017 was a unique experience. There was a chance to do physical activities, share with teachers from other branches from Santander and see personal and sports-related growth among all the participants" .
In Argentina, Sofía Belén, ISEF Nº1 Dr. Enrique Romero Brest said, "HEALTH is the ONLY thing we need to be happy. Let's work as a team to reduce the bad and sedentary habits. Once we continue work in the same direction, the less future challenges we will have to overcome".
Semana Muévela will build on this momentum again next year, and more NowWeMOVE actions may also be set to roll out across the continent in 2018. Stay tuned…
Find out more about Semana Muévela