31/3/2015
MOVE Week-inspired Danish project nominated as European Youth Week best practice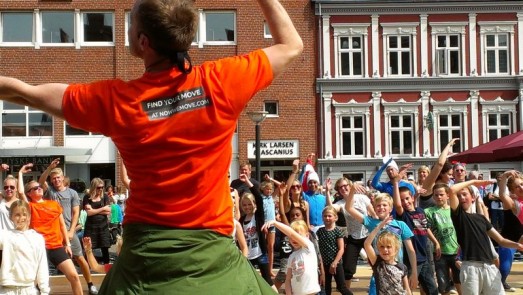 When staff at the Danish youth organisation 4H Danmark received an email from the Danish National Agency for the Erasmus+ programme recently, they didn't expect the surprise it contained. And it was a good one. It said their project, "We Move", had been selected as a best practice and nominated for presentation at the European Youth Week this April-May.
"We Move" was 4H Danmark's innovative answer to the Nordic Youth Association's (NSU) annual Nordic youth leadership development training in October 2013. The project, which took place in Ribe, in Denmark, put the spotlight on young people's health and physical activity, taking inspiration from MOVE Week. The training included a workshop on the NowWeMOVE campaign and the participants were given one-on-one advice from the 2013 NowWeMOVE Coordinator, Tommy Kristoffersen, on how to organise events for MOVE Week.
"This is a feather in our cap and a big pat on the back for us. We are delighted to be recognised through this nomination," Henrik Dalum, the Chairman of 4H Danmark, says.
So why was 4H Denmark project selected to represent Denmark in the European Youth Week? There were several good reasons, according to Melissa Kousgaard, who works with international training programs at the Danish Ministry of Higher Education.
"The theme of European Youth Week this year is young people's participation, so 'We Move' matches this theme perfectly," she says.
'We Move' was planned and run by young people who achieved significant learning outcomes and set a good framework for the activities. But most importantly, according to Kousgaard, it provided the participants with the inspiration, knowledge and tools to organise activities among their own networks and communities.
"Through this approach, the project illustrated active participation in society in an excellent way, and enhancing young people's active citizenship is one of the priorities of the Commission's youth programme," she explains.
'We Move' was selected from among 100-200 youth projects in Denmark. European Youth Week will take place from 27 April-10 May in 2015. Each European country nominates 5 projects to be part of the week, and one of these will be selected to be part of the exhibition in Brussels.
Read more about European Youth Week here
By Hanne Müller, ISCA/NSU