29/6/2016
MOVE Week 2016 defies the odds with 2000 events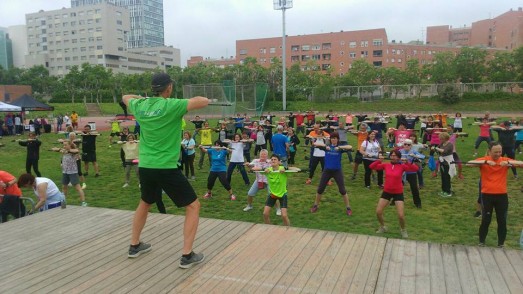 The first spring edition of the European MOVE Week saw 2000 events taking place across the continent. Despite the challenge of moving the NowWeMOVE campaign's biggest event of the year from September/October to May, and having little preparation time after last year's MOVE Week, our National Coordinators and MOVE Agents succeeded in gathering support and eager participants in their communities. ISCA youth officer and data manager Eleana Velentza shares some highlights from our National Coordinators.
In Bulgaria 166 MOVE Agents organised 267 events in 95 cities, with contributions from municipalities, including Plovdiv, Pomorie, Chepelare and Montana. The MOVE Agents were assisted by 300 volunteers and moved more than 34,000 participants during the week. MOVEWeekend featured as a flagship event for the second year in a row in five Bulgarian cities. With positive engagement from local citizens, MOVEWeekend is tipped to become a regular event on the NowWeMOVE calendar.
Croatia's MOVE Agents succeeded in organising, with numerous partners from different sectors, 103 events involving almost 6500 citizens from various backgrounds and ages. Through the initiative "Physical Activity as the Cure" and the conference "Physical Inactivity – Public Health Priority of Today", 2000 patients received counselling from health professionals on the importance of physical activity for health enhancement, prevention and rehabilitation of a number of chronic non-communicable diseases. Croatia's National Coordinator Renata Kutnjak Kiš, from the Institute of Public Health of Međimurje County, said that the health professionals involved included doctors, nurses, health care workers and expert associates.
In Iceland 150 MOVE Agents managed to organise 450 registered events, which places Iceland at the top of registered European countries for MOVE Week. Swim-off competitions among municipalities, and the SideKickHealth and WAPP app (walking app with one hike each day) were features of the Icelandic MOVE Week, which in the end engaged more than 40,000 participants – over one tenth of the population. Malta kicked off MOVE Week with a multi-sport Beach Fitness Festival, and throughout the week moved more than 2000 participants and engaged 40 volunteers in 12 events across the country.
In Spain around 2000 participants joined MOVE Week and approximately 600 people attended the flagship event Walkim Barcelona, turning the city into the capital of Nordic walking. Participants in 17 counties in Romania put on their orange t-shirts and took part in numerous events such as tennis, football, volleyball, basketball, hiking, chess, street ball, handball, cycling, gymnastics, bike races and other sports and recreational activities for both adults and children. The Czech Republic and Hungary attracted over 6000 adults, children, elderly people and volunteers to new physical activities where they learned about the importance of regular exercise.
All data for MOVE Week 2016 were collected from the official website, National Coordinator reports and MOVE Agent and participant surveys. The data collection is still in progress and the final results are expected to take shape in the coming weeks.
The MOVE Agent and MOVE Week participant surveys are still open. Have your say and help us develop MOVE Week in the future.
For information on MOVE Week in your country, please visit http://www.moveweek.eu/