25/10/2012
MOVE Congress reaching new frontiers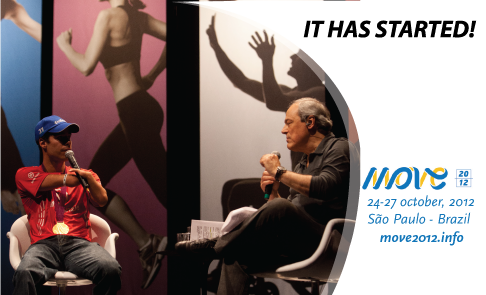 MOVE Congress 2012 has just started and in an action packed opening ceremony delegates were inspired by promises, entertainment and a binding signing act.
Values, Actions, Results. Three words which highlight the philosophy of the Congress. Three keys to unlock the potential of sport! Three steps that allowed the MOVE Congress 2012 to provide room to analyse and discuss one of today's major issues: the role of sport in society.
Happening for the first time outside Europe, the opening ceremony set the stage for the sport for all network to develop its vision and broaden its frontiers.
In 2012 ISCA together with members and partners have been working together to turn ideas into actions and shaping a vision for a decade that should change sport.
October has then been a turning point in this key year to unlock the potential of sport and physical activity. From a successful first European MOVE week to the first ever MOVE Congress held outside Europe, autumn has been giving new colour to sport for all.
The Latin American perspective offered a spring tone and a new birth our reflection. With an amazing window of opportunities being within a hand reach thanks to momentums such as the World Cup and the Olympics, active lifestyle is at the heart of the new Brazilian campaign, MOVE Brazil, that was launched yesterday. Bringing together key stakeholders and a wide variety of sectors, this campaign promises to give a new impulse to develop well being while fostering a cultural change through the long term process. Legacy has to be thought and prepared for our future is being shaped right now.
As stated by ISCA President, Mogens Kirkeby, "it is our obligation to innovate to develop access to sport". The MOVE Congress is indeed meant to be a platform for gathering the Sport for All network, key stakeholders and supporters. Each year the congress reinforces and builds upon the vision for sport and physical activity at the service of society, communities and individuals. Being in Brazil is bringing a very special added value to this Congress thanks to a magic opening ceremony which gathered musicians, ministries, sport for all organisations and athletes. Who else that Brazilian could have reminded us how music, sport and culture are first and foremost about fun and playful... well joy! Thanks to our amazing host, we got a taste of Brazilian carnival which gave the Congress fresh energy to catch and capitalise on the opportunities that lie ahead.
Our time is now. We are the keys opening the doors to other organisations in our country and in our network to join and create opportunities.
It's time to MOVE the world today!