25/9/2012
MOVE Congress 2012 INTERVIEW
WITH KELLY MURUMETS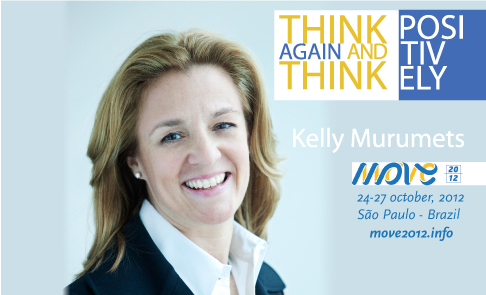 We invited KELLY D. MURUMETS (one of the MOVE Congress 2012 speakers) to be interviewed.
Here is
the story of a very special person, Kelly Murumets, and the story of a very special organization, ParticipACTION
.
Who is Kelly?
Kelly is the President and CEO of ParticipACTION, the national voice of physical activity and sport participation in Canada. ParticipACTION has been an iconic Canadian brand since 1971 and was relaunched under Kelly's dynamic leadership in 2007.
But, Kelly is much more than just the President of ParticipACTION. She is a treasure, she is an energetic woman who leaves the impression wherever she goes. After employment in the business sector for many years, in 1992/93, she and her husband decided to take "a break" in their lives. They traveled around the world, discovered new challenges and beautiful nature in many countries. "That was a year of self-discovery. I knew that I wanted to make a difference in others' lives."
"My life is sport! My religion is nature" she shared with us.
Kelly's favorite sports: hiking, skiing, swimming, scuba-diving
Kelly's favorite city: Paris
Kelly's favorite place and activity: Scuba-diving in Borneo
ParticipACTION: What is this about?
"This is my dream job," she said with a big smile. It is the national voice of physical activity and sport participation in Canada. Through leadership in communications, capacity building and knowledge exchange, Dream Team of 12 persons inspire and support Canadians to move more. They ensure there are programs to support people and their activities.
"Canadians trust us when we are coaching them to be more active. They believe in us and our message. We are their friends on their way to a healthier lifestyle" says Kelly with great enthusiasm.
What partnerships are needed to get Canadians more physically active?
The ParticipACTION Network is a robust national network of organizations dedicated to physical activity and sport participation. Partners are from government, non-governmental sector and from private business, all with the same goal: to inspire and support Canadians to move more. "ParticipACTION is transparent, with activities, strengths and resources in the physical activity and sport participation sector. Partners know what we can deliver and also know what they can expect from us. The ability to communicate is essential to the success of the partnership process and an important factor in the achievement of our collective and respective sets of objectives. We have the knowledge; the key to accessing that knowledge lies in the ability to communicate. Communication didn't just happen. It was organized, developed, and built. A good communications strategy allows us to have better control over our work and to frame the issues. We build trust with a professional approach to the promotion of sport. Partners believe us; they believe in the results we can deliver. We become friends."
What are current challenges for ParticipACTION and for Kelly?
ParticipACTION's vision is to work with its partners to ensure a Canadian society where people are the most physically active on earth. "We worked very hard over the last five years to develop the partnerships we have now. We work hard to maintain trust levels, to achieve results and to inspire Canadians to increase their level of activity, while inspiring society to make it easier to do so."
What about Kelly? What is Kelly's challenge in this world?
"My challenge is to manage ParticipACTION and our Dream Team of 12 persons in order to achieve the above-mentioned goals before 2020, while still having time for hiking, skiing and exploring this world's beautiful nature."