8/2/2012
MOVE Call
draws a lot of interest
Experience Submitted
Partnership. That is what connected Andrew Power to the MOVE project. Current supporting the strategic coordination of physical activity in County Durham and the chair of the CPD committee in the North East of England (leading the North East Physical Activity Forum), Andrew Power is participating in the MOVE Call for good practices.

As a participant at the MOVE congress, where the Call was launched (read more here), beside enjoying its effective space for networking and information providing, Andrew highlighted his inspiration from different speeches, presentations and contacts: "It was a time to hear and realize the interesting contrast of different initiatives around; a good opportunity to learn from other experiences". Meanwhile, encouraged by the outcomes of previous experiences on interacting with sports and physical activity database platforms, participating or not on the MOVE Call was not a hard decision to take.

Although used and acknowledge of the potential of interacting with information platforms, events and meetings, the call of the MOVE project was a new experience for him due to its online process.
"That is the first online sport and physical activity database platform I contribute with"
By pressing the send button, Andrew not only shared his experiences but also expects from the project: "Contact of any kind and information from stakeholders, besides the ensured feedback, which will provide an external perspective of our work".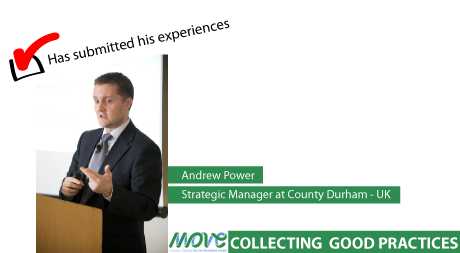 ---
The MOVE project invites project managers to share their experiences with physical activity and/or sports projects designated to socially disadvantage groups, by completing the online form.
The deadline is the 30th of April.
Read more about the call here>>>
---