16/10/2012
MOVE2012 Congress: the story of Maria Luiza Souza Dias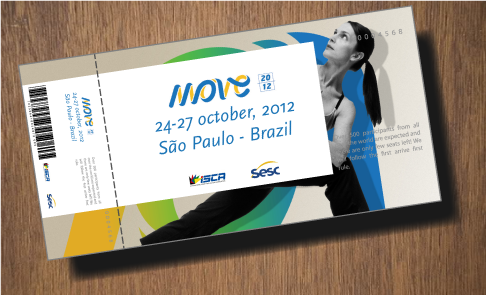 Our future is being shaped right now!
We invited Maria Luiza Souza Dias from SESC from Brazil (MOVE2012 Congress partner) to be interviewed. Here is the story of Maria Luiza, and the story of promotion of the social well-being and improvement of the life quality and cultural development of the Brazilian community.
Who is Maria Luiza?
Maria Luiza is a Manager of Physical and Sportive Development of SESC São Paulo (Social Service of Commerce – SESC). She is a very personable, empathetic leader who enjoys sharing her knowledge and experience. That's why she also likes very much to lead courses and lectures in the field of human resources management, and activities related to sportive and cultural area.
Her passion is also to be a leading coordinator of Challenge Day for the American Continent. This is a world campaign to give citizens the incentive to regularly practice physical activities for the benefit of health and well-being.
What is SESC about?
SESC Brazil establishes policies for the Educational, Health, Cultural, Sports and Leisure, Social Assistance Programs, based on studies, researches and experiences. It has more than 430 Branches in all Brazilian States Capitals, medium size cities and small towns.
SESC in São Paulo is an institution of private nature which public mission is to assist workers from the commerce and services. It was created in 1946 by commerce enterprisers to enhance the quality of life of the workers and their well-being. The entrepreneurs created an independent structure supported by their own resources, audited by the government and guaranteed by a law, where their employees and society in general have the access to important and necessary activities in the fields of culture, arts, education, leisure, sports, health, etc. Companies in the commerce and services sector pay a compulsory contribution, which is equivalent to 1.5% based on their payroll, to a mutual patron fund.
Maria Luiza shared with us: "Our main goal is to promote the social well-being and improve the life quality and cultural development especially of its target (workers from the commerce and services) and also of the whole community. What SESC does to improve people's lives for its target communities in Brazil is certainly a big challenge! In SESC Centers in São Paulo State ( 33 branches in operation in São Paulo, 18 in the Capital and Metropolitan Area, 15 countryside and in the coast) we develop programs in the areas of Culture, Physical and Sportive Development, Health and Nutrition, Social Tourism, Environmental Education and Free Internet. Believe me this is a challenge! Especially if we want to cover all populations from children, young people, adults and seniors."
---
FACTS about activities in SESC SP in 2011:
- Over 7.500 workshops
- 7.700 theater shows
- 970 dance shows
- 780 art exhibitions
- 5.000 concerts
- 3.500 movie screenings
- 11 million health consultations
- 620 congresses, seminars and lectures
- 15 million meals served
- 607 tournaments and championships
- 13.399 students attended courses in sportive initiation
- 61.798 students attended gymnastic courses
- 3.362.459 participants in the field of sportive and physical development
- 12.051.170 participants in recreational activities
- 390.594 participants in Social Tourism
- Over 17 million visitors to SESC SP centers and alternative spaces in 2011.
---
We asked Maria Luiza which partnerships are needed to get Brazilians more physically active.
And she is very enthusiastic about this: "Brazil is a country of continental dimensions, plural in diversity, traditions and customs. Therefore, having partner institutions which can act nationally is very important. The strategy is to start with partners that have among their missions and values the encouragement of physical activity and development of partnerships that can be multiplied in each state and city. Institutional partners with a high performance in many communities are those who best know the people and culture, and also have more power to take actions to move people. Only with a well-coordinated network that can share information, raise awareness and provide tools, we can structure successful cases and projects nationally that will move Brazil."
What are the current challenges of the new Brazilian Campaign?
"To start the campaign we are planning a nationwide research to give a current outline of the practice of physical activities and sports by the Brazilian citizens. Our goal, therefore, is to extend the knowledge about the population practices and routines in relation to leisure and free time, to better understand the social and environmental conditions that support (or not) the involvement with physical activity, as well as the presence and impact of policies and public facilities that amplify the citizen connection with physical activity. Such indicators will give us the conditions to define effective strategies of action, which indeed will be one of the greatest challenges of our campaign. Pointing out those themes as relevant to the national matter is also one of the challenges that I would like to emphasise, once the understanding of the needs for a better social knowledge has a strong impact on individual behaviour."
What are SESC expectations for the MOVE2012Congress? And on a more personal level, what do you expect from this event?
"Receiving this event in Brazil is strategic. It happens at the very moment when we foresee a huge window of opportunities to give a greater visibility to the sporting universe, once the preparations for the World Cup and the Olympic Games in Brazil are in progress. SESC will use this opportunity to showcase the Sport for All movement in Brazil, empowering the movement as we believe it has the same principles that contribute to the formation of citizens and the entire society. Identifying and upholding major actions to promote sport and physical activity, promoting the thinking that the future must be shaped right now and highlighting the importance of cross-sector collaboration to achieve better results is our proposal for the Move2012 Congress."
Last but not least, Maria Luiza, as ISCA Vice-President, invites you to Sao Paulo: "The Congress will be held in São Paulo, Brazil, on 24-27October 2012 and hosted by the Social Service of Commerce – SESC SP, at SESC Vila Mariana. It will be a great opportunity to meet professionals and leaders in physical activity, sport and citizenship. We want to look with you into the future of sport for all and all together get ready for it. We need you to participate, we expect your active contribution and will offer you innovative and energetic room for you to do so."
Note: For the first time in MOVE Congresses' history, social media will be used to stimulate the debates.
Live coverage and interaction with speakers
will be delivered
through twitter
. Make sure to follow
@ISCA_tweet
and to use the official hash tag for the Congress #MOVECongress2012. Pictures gallery and newsworthy stories will be shared on Facebook. Stay tuned while "liking" our page (
www.facebook.com/ISCApage
) and feel free to interact with us.
---