31/5/2011
MOVE2011 World Congress in Paris

Think global, MOVE local
Paris, France, 19 – 23 October 2011
Welcome to the MOVE2011 World Congress – Think global, MOVE local.
We invite you to join us in Paris for four days full of discussions, seminars, meetings and study tours that unquestionably will create new networks of peers from around the world and expand your existing ones.
This year's congress will foster the vision of getting 100 million more people active in sports and physical activity. What does it take internationally, nationally and locally to reach this ambitious goal? Can we strengthen cross-sector links that enable partnerships and projects producing societal benefits in terms of both health and social cohesion and economic opportunity and sustainability?
MOVE2011 will accordingly explore the following themes:
# PEOPLE – developing customized physical activity offers and opportunities for different target groups.
# PRACTISES – Trends and challenges in making people active.
# PARTNERS – Making the world move by working together.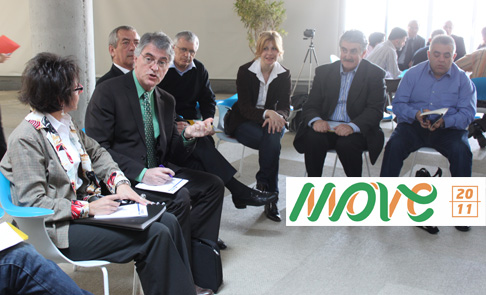 Make your
MOVE
The congress will take place in Paris, France from 19 – 23 October 2011. Hosted at the House of Sports of the French National Olympic and Sports Committee in central Paris the congress offers ample opportunities to enjoy the city during the evening after an intense day programme.
MOVE2011 provides rich opportunities to meet leading professionals in the fields of sport, health and citizenship. The congress includes debate sessions and workshops and features a wide range of plenary sessions and keynote addresses from researchers, politicians and leaders of sports organisations from across the globe. The congress programme is updated regularly on the Congress website www.move2011.info .
The congress format combines stimulating plenary presentations and debates drawing on the latest research, trends and best practices with focused workshops and dynamic debate groups to provide a programme that will enable participants to formulate strategies towards achieving the goal of 100 million more people active. Participants will thus be engaged in a highly interactive and inspiring programme.