17/8/2010
MOVE2010 // Register now !

MOVE 2010
European Congress on Sport for All and Health: A Strategic Partnership
Join the MOVE2010 congress today and benefit from the early bird congress fee
Over 100 participants have already signed-up for the MOVE2010 Congress, 20-24 October 2010 in Frankfurt and many more are ready to join within the coming weeks.
Make sure to book your participation and join the MOVE2010 congress community today
Up to the 1 September 2010, you can benefit from the advantageous congress fee of 190.-€.
Sport for All and Health: A Strategic Partnership
What is 'health'? It is physical, mental and social wellbeing. What is 'Sport for All'? It is a mechanism to achieve physical, mental and social wellbeing. However, to date, the Sport for All and health sectors have fundamentally operated separately, with only some recognition of their interdependence. The time has come to unite these sectors and develop strategies for obtaining maximum benefit for societies, organisations and individual citizens.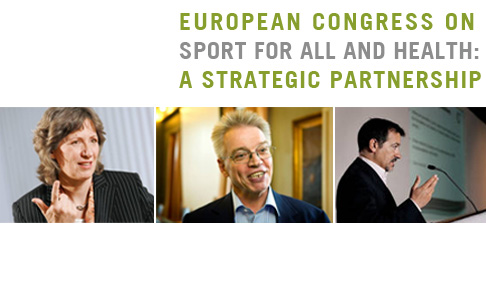 Select speaker profiles
Ms Birgit Fischer - CEO of the insurance company BarmerGEK which focuses on health prevention
Ms Heine Parkkunen - Healthy Cities Network; WHO Baltic Region
Mr Jorma Savola - Leader of the EU "Healthy Sport Club" Project, Finnish Sport for all Association
Mr Pedro Velasquez – European Commission, Deputy Head of the Sport Unit
Themes
Campaigning for Sport for All & Health: Key Success Factors
Strategy Development for Sport for All & Health
Healthy Cities & Active Cities: Building the Network
Quality Demands in Health Enhancing Sport for All Programs
MOVE2010 congress fee
Payment before

01/09/2010

Payment after

01/09/2010

Congress fee

190 €

250 €

Student fee

160 €

190 €

If you are accompanying a participant but will just be present at the lunches and dinners

100 €

160 €
Registration and Bank Information
Note that your registration will be confirmed after we have received your payment of the congress fee. Please transfer the congress fee to the following account with the reference of your name, e.g. John SMITH.
BANK DETAILS:
Receiver : MOVE2010 Congress
Name of Bank : SYDBANK
Address : Kirketorvet 4, 7100 Vejle, Denmark
Swift code : SYBKDK22
IBAN no. : DK9770300000304881
In case you have further question regarding the registration, please visit the congress registration section http://www.move2010.info or contact us by e-mail: [email protected].
Call for Papers and Best Practice Fair
Submit a congress paper and become a MOVE2010 congress contributor.
It is our pleasure to invite you to submit presentations for the "MOVE2010 - Sport for All and Health: A Strategic Partnership" congress. Contributions will be presented at the Call for Papers sessions or at the Best Practice Fair. This is your chance to become an active contributor and to assist developing MOVE2010 into a rich and diverse event.
Submission
To submit your suggestion for a presentation, please include:
Title of the paper
Name of speaker, institution, city and country
Format of the presentation (oral, poster or video) and preferred session type: Call for Papers Sessions or Best Practice Fair.
Abstract of maximum 500 words, summarizing the presentation
Abstracts should be submitted electronically to [email protected] before the August 16, 2010. The evaluation team will reply and contact applicants with feedback no later than August 25, 2010.
Register Now!
Make sure to book the 20-24 October 2010 in your agenda and register today. The MOVE2010 congress on Sport for All and Health: A Strategic Partnership will be a truly enriching experience, providing most relevant knowledge in the field of sport and health and tremendous networking opportunities. Register at www.move2010.info