18/11/2009
MOVE2009 outcomes

MOVE2009 Closing Panel Conclusions
The MOVE2009 closing panel reflects about the event and future opportunities
The closing of the MOVE2009 saw panellists Walther Feldman (City of São Paolo), Rene Kural (Center for Sport and Architecture), Mogens Kirkeby (ISCA), Randy Rzewnicki (European Cylists' Federation) and Ian McKenzie (Union of International Architects) debate the findings of the congress.
Inspired by moderator Jens Sejer Andersen (Play the Game) and apt questions from the audience, the panelists summarized som key topics of the conference to be:
Political momentum for Active Cities. Walther Feldman himself explained how the conference had inspired him to do more for physical activity in Sao Paolo, and during the conference, he had been in contact with the Mayor of Sao Paolo, whom had agreed to set up new projects inspired by the MOVE2009 conference.
Inviting for cross-cutting Partnerships. Several panelists agreed that the huge challenges in the cities require concerted action among city planners, architects, the health sector, sport organizations and others. The MOVE 2009 conference had shown examples of cities and projects that inspire such cooperation between the sectors. Indeed the conference was itself run by a cross-cutting consortium of organizations.
Re-thinking Active Cities and physical activity. From "World Village of Women's Sport" and "Project Underground" to "Sport Caravan". The projects and indeed ways of thinking about physical activity in the cities have been challenged during the MOVE 2009 congress. "We need to stop conventional thinking about sport and physical activity" said Mogens Kirkeby. "And I take with me from the congress in particular a concept by Milan Hosta: Let's think holistically and move from 'health-enhancing physical activity' to ' Life-enhancing physical activity'!"
Closing the conference programme and inviting participants to the following day's study tour programme and not least closing dinner, all participants were invited to see or revisit the presentations, videos, book of abstracts and speaker bios etc. that were available on MOVE2009 website.
www.MOVE2009.org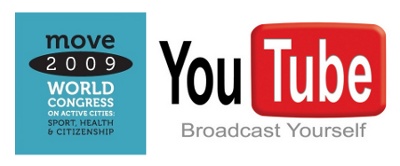 MOVE2009 Videos
Now available on Youtube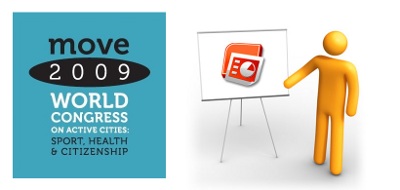 MOVE2009 Presentations
Now available

MOVE2009 Photo Galleries
Now available on Picasa