10/6/2015
Missed the first European Panna Tour?
See the highlights…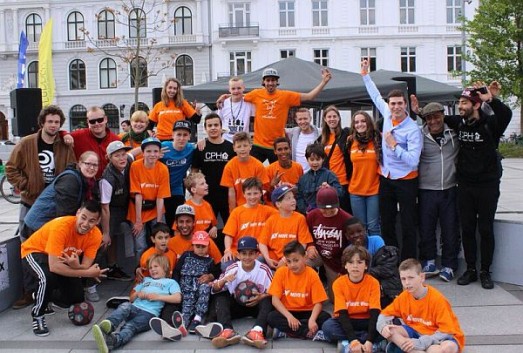 The first NowWeMOVE European Panna Tour, took at team of street panna football players to the main squares of cities across Europe over 12 days (from 22 May to 2 June) to encourage young people to get involved in physical activity.
Panna or nutmeg (sometimes just "meg" or "tunnel" as well) is a technique used in association football, field hockey or basketball, in which a player rolls or throws the ball between an opponent's legs (feet). The aim of the European Panna Tour, as a part of the NowWeMOVE campaign, was to provide an attractive street panna football activity on the main squares of selected cities throughout Europe and invite the spectators to join in.
In Copenhagen, the opening event was organised in collaboration with Indre By Ungdumsklubber. From there, the panna team, Suell, Kristoffer, Soheil and Amine, flew to Ljubljana where they played with 20 participants in front of more than 60 spectators. They contributed to introducing Slovenia to a relatively new activity, particularly to children living in suburban areas.
After 2 hours of driving, the players arrived in Zagreb. During the event on 25 May, they gathered not less than 100 spectators. The next road stop was in Kumanovo where they improvised a street event to provide the opportunity for local people to discover and play panna football.
On 28 June the panna team travelled to Greece in Thessaloniki. A total of 1.000 persons came to see what this street sport looked like, and 70 of them challenged Kristoffer and his teammates to a game. Local partners brought new stakeholders´ attention to MOVE Week, especially those from the football sector.
The trip continued to Bulgaria, where 1.000 persons were part of the 3 panna events: the main one was held at the centre of Plovdiv, the second one was a social event at Naiden Gerov School in the biggest ghetto of the city, and the third one was a workshop at Lauta Park. Panna is an interesting new sport that is not very popular in Bulgaria, but local partners found it was a good alternative to the typical football game.
The 4 players finished their panna tour in Budapest on 2 June, in one of the most famous and finest places in the city: Hősök tere (Heroes' Square), which is a World Heritage site. Famous and popular Hungarian football players featured at the event.
Missed the action? See videos of the Panna Tour below
Copenhagen: https://www.youtube.com/watch?v=qMWYjL-98Es
Ljubljana: https://www.youtube.com/watch?v=DhrlSRoeFnY
Zagreb: https://www.youtube.com/watch?v=Io-iNQyukGo
Budapest: https://www.youtube.com/watch?v=3TEAZByGI4I&feature=youtu.be
Find out more on the event at: http://panna.nowwemove.com/