22/12/2011
mimosa
Migrants' Inclusion Model of Sport for All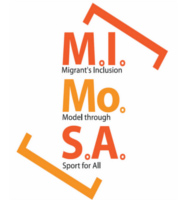 Sport has been recognized by European Union as a tool of social inclusion, education and socialization for all. However, many legal and cultural constraints limit the access of migrants, refugees and other groups to sport. Among obstacles that migrants face in acceding to sport, the limited financial resources and the lack of information on sport organizations, sport facilities and their location, as well as the requirement for acceding to sport activities linked to skills and performance. Limited or lack of cooperation among sport organizations, migrant organizations and national and local authorities is
a challenge if to effectively address the above mentioned problems.

UISP - Unione Italiana Sport Per tutti (Italy) is a leader of the MIMOSA project, one of the Preparatory Action in the Field of Sport projects, that has 13 partners all over Europe. Among many goals Mimosa is building and strengthening a transnational network at European level, it is elaborating and exchanging the experiences of good examples, models of social inclusion and empowerment for migrants and other groups based on sports related initiatives, both mainstream and marginal.
MIMoSA project partners developed questionnaire that would like to explore innovative features, giving special attention to marginal sport disciplines, particularly ones from the migrants' countries of origin, and targeting different groups that meet more integration problems, among which refugees, asylum seekers, Roma and women refugees.
MIMOSA project collects good experience of migrants' inclusion through football (or other sport activities like cricket, baseball…..), what is the effectiveness of the proposed model within the sports, what kind of experimental component are carried out. We would like to find out and investigate the main factors that limit the migrants' access to sport, and to provide possible solutions, centralized in an ethics code, and a set of guidelines for sport associations and for local authorities.
The collection of good examples will be designed to provide inspiration and motivation to national association political leaders and project partners managers/volunteers by collecting the knowledge of the good examples.
Follow more here>>.
---