9/2/2021
Learn.isca.org:
Demand for online learning set to continue in 2021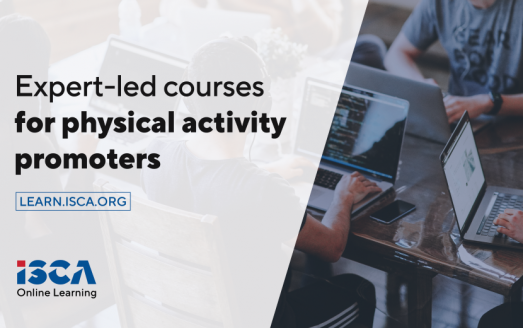 2020 was a year that propelled the demand for online learning to a new level. ISCA's platform learn.isca.org was no exception, seeing a significant leap in users from March. This steady momentum has continued as our members and broader network of organisations and individuals, who are dedicated to physical activity promotion, are actively engaging in our courses.
The platform features 6 courses that are available all year round on demand: ActiveVoice, European Fitness Badge, Integration of Refugees Through Sport (basic course and Theory of Change), Grassroots Sport Diplomacy, and MOVEment Spaces. It is also a community of over 400 registered users who meet and share ideas on the platform's forums in addition to taking the courses. The courses are widely used across different types of devices, mobile phones being the most popular, followed by tablet and desktop.
New course: Theory of Change
December saw the launch of a brand new learning opportunity: a Theory of Change (ToC) course, which focuses on developing organisations that work with social inclusion and the Integration of Refugees Through Sport (IRTS). Created in collaboration with inFocus, experts in the ToC method of structuring activities to achieve the best results, this course intends to help you measure the impact of your work.
Tom Keyte from inFocus says the Theory of Change course can be a great way for organisations to start their planning for the year, no matter which sector they operate in.
"Our Theory of Change course can support staff and volunteers in an organisation to get 'on the same page' with how their activities lead to social change, and the process of developing a theory of change can help to uncover new assumptions about how an organisation works. It also provides a strong basis for impact measurement, acting as a 'map' for what to measure as part of the evaluation and learning process."
Two more courses are to follow in 2021-2022:
Learning from Experts' Examples: Discover and learn from a range of IRTS initiatives that have achieved positive social impact and change
Advocacy for Integration of Refugees Through Sport: Gain essential knowledge about advocacy and tips on how to be successful in raising awareness of the value of IRTS.
Visit learn.isca.org to start a new course at your own pace.