14/6/2010
IYLE turned 15
International Youth Leader Education
The International Youth Leader Education (IYLE) is an exchange program of non-formal education that aims to possibility the international experience - getting in touch with new people, different cultures and ways of life - , as well as form volunteers to work with education through sports activities.
From all over the globe, students have been participating on the Danish Folk High schools daily life, striving and enjoying themselves on gymnastics and sports classes.
In 2010 this program is celebrating 15 years of activities, involving 120 Latin American young students!
This is a moment for celebrations, experience exchanges and friends meeting!
Therefore, the Latin American Youth Committee (LAYC) has organized the 1996 - 2010 IYLE's Meeting, taking place on 3rd and 4th July, at SESC-Campinas/SP, in Brazil.
An opportunity for gathering the participants from Brazil, Argentina, Chile, Colombia, Costa Rica, Paraguay, Peru, Porto Rico and Uruguay, exchange the international experiences and histories, as well as:
Have a speech about volunteer service and exchanging programs;
Participate on special activities, remembering what has been done at the Danish Folk High Schools;
Evaluate the International Youth Leader Education program development.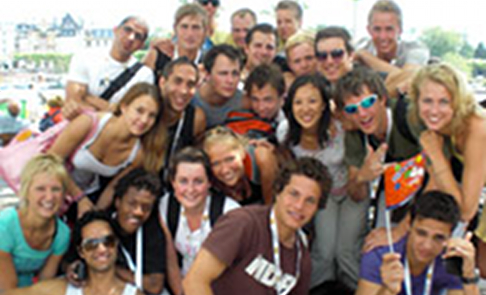 Celebration meeting
3-4 July 2010
Holding the meeting, the Latin American Youth Committee has invited five special guests, who are deep involved with the IYLE history:
Bo Busk Madsen and Cristiane Fiorin-Fulgsan - both teachers at the Gymnastikhøjskolen I Ollerup - Denmark,
Maria Luiza Souza Dias - ISCA's Latin American Continental Committee Chairwoman,
Elizabeth Paoliello and Herbert Hartmann - ISCA's vice-presidents.
All the students that have been to the Gymnastikhøjskolen i Ollerup or to the Idrætshøjskolen ved Viborg are welcome!
More information, send e-mail to: [email protected]
FULL PROGRAMME:
JULY, 03, SATURDAY:
2:30 pm – 4:30 pm:Thematic table: The Practice of Gymnastics: influence of culture - Bo Busk, Odilon Roble and Ilona Gerling.
5:00 pm – 7:00 pm:Conversation with IYLE's participants and Bo Busk Madsen, Cristiane Fiorin-Fulgsan, Maria Luiza Souza Dias and Elizabeth Paoliello.
7:00 pm –8:00 pm: Dinner.
8:00 pm: Show and confraternization.
JULY, 4TH, SUNDAY:
9:00 am–12:00:Youngsters in volunteer service of education through sports activities; ISCA and LAYC information; projects presentations; experiences exchanges and practical activities. – Herbert Hartman.
12:30: Lunch.