23/5/2016
It's time for MOVE Week!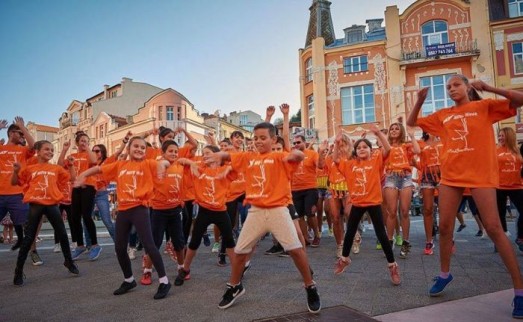 It's time to MOVE! Today is the first day of MOVE Week and 1,516 events are registered to take place in 27 countries across Europe, with the number still climbing. MOVE Week runs from 23-29 May this year and the countries with the most events registered so far are Bulgaria (230), Iceland (201), Poland (170), Denmark (168), Italy (142), Slovakia (125) and Portugal (120).
Check out the range of community sport and physical activity events on offer at http://moveweek.eu/events/
Here are some of the highlights:
Albania
BITT – Burreli Open International Table Tennis
27-29 May, "Ferit Hysa" Sport Palace – Burrel, Albania
Active Disabled People Albania and Genuine Effect are going to MOVE Albania with this big event, where disabled people will not only be the players but also the referees for elite table tennis athletes.
https://www.facebook.com/BITT-Burreli-Open-International-Table-Tennis-444282618985032/
Belgium
P&O MOVE Day
26 May, InterNos, Acacialaan 32, 1853 Strombeek-Bever Brussels
The Belgian Ministry of Finance is once again supporting MOVE Week with a flagship event involving 300 of its HR staff. Look out for ISCA Secretary General playing ping pong with them in the Capoeira session on Thursday 26 May. All events start at 1.30pm.
Croatia
The Croatian Ministry of Health, County of Međimurje, Karlovac County, the City of Prelog, City of Čakovec and City of Mursko Središće are patrons of MOVE Week 2016. About 80-100 events are expected to take place in 15 cities/municipalities and 5000-8000 participants are tipped to get involved. Look out for events in particular in Međimurje, Karlovac, Supetar – Island of Brac and Zaprešić City.
http://moveweek.eu/events/2016/croatia/
Denmark
Bike2Work (Vi cykler til arbedje)
1-31 May, national
This year, the Danish Cyclists' Federation has linked its annual Bike2Work month (Vi cykler til arbejde) Denmark_Bike2Workwith MOVE Week. Bike2Work encourages people to use their bike for commuting and everyday transportation, and thereby improving their physical and mental health, and reducing the impact of peak hour commuting on the environment. Bike2Work month runs throughout May and all teams who register to compete with each other for kilometres cycled during MOVE Week will count towards the official MOVE Week tally. NowWeMOVE has also joined forces with the Danish Health Authority's Get Moving campaign and the Danish events will also be in support of #getmoving.
http://www.vcta.dk/ #pedalkraft
http://www.getmoving.dk/ #getmoving
Greece
MOVE Week in Greece will open Sunday 22 May in Komotini with the Komo Run Events. All MOVE Week event in Greece will be held under the auspices of Ministry of Interion/Macedonia & Thrace, Ministry of Education and with support of Ministry of Health and Hellenic Youth Council.
Hungary
The MOVE Week highlights in Hungary this year feature school events including the Hungarian School Sport Federation's Student Olympics Celebration of Athletics, a 6-day athletics competition for students aged between 9-18 years. More than 1000 students are expected to take part in the city of Székesfehérvár. In Szeged, children can try 10-15 sports on one day.
http://www.mdsz.hu/en/diakolimpia-2/
Iceland
MOVE Week swim off
23-29 May, several municipalities
Who would believe that swimming is the most popular event in the coldest MOVE Week country? It's true. Last year citizens from two Icelandic municipalities battled against each other to swim the greatest distance over one week. This year the event is going to be even bigger, with 40 swimming pools across the country hosting Iceland's biggest swimming battle! Iceland continues to be one of MOVE Week's strongest supporters, securing sponsorship from the Floridana fruit juice brand until 2020 and joining forces with the SidekickHealth app.
http://www.sidekickhealth.com/
http://blog.nowwemove.com/move-week-swim-off-sparks-unique-competition-between-icelandic-municipalities/
Malta
Highlights on the MOVE Week calendar in Malta this year include Family on the Move on 26 May and a MOVE Dance Show on 27 May. Sport Malta and the Maltese Parliament are official supporters of the NowWeMOVE campaign and are upscaling their events over the next two years. Look out for local politicians taking part in a 5 km run during MOVE Week.
http://www.sportmalta.org.mt/archives/3326
Slovakia
Slovakia is following up its successful 10,000 jumps for helath, a MOVE Week event last year, by aiming for 100,000 leaps for health (100,000 skokov pre zdravie) this year. Bratislava in line will also start its season during MOVE Week on 27 May. Slovakia's Bike2Work campaign (Do práce na bicykli) is also joining forces with MOVE Week, as well as an event to salute the Olympic Day in Rio, Poprad on the MOVE and the School Olympic Games in Pribylina.
http://blog.nowwemove.com/slovakia-ready-with-over-200-move-week-2016-events/
Slovenia
The Slovenian President, Borut Pahor, is supporting MOVE Week this year, and the Slovenian MOVE Week calendar will travel around 10 cities in 10 days. The events started on Friday and will take place each day from 3pm. 10 laps for 10 smiles is the flagship event, organised by the Sports Union of Slovenia in partnership with the National Institute for Health and Paralympic Committee.
http://www.sportna-unija.si/Article/Details/24820/predsednik-republike-castni-pokrovitelj-mednarodnega-tedna-gibanja
Spain
Eurofitness is organising a MOVE Week walk in Can Dragó, Barcelona, tomorrow. Contact MOVE Week Spain's National Coordinator, Lindsay Young, for more information.
Look out for more events in your country and Find your MOVE during MOVE Week!