9/3/2017
ISCA Secretary General presents good governance pledge at EU Sport Forum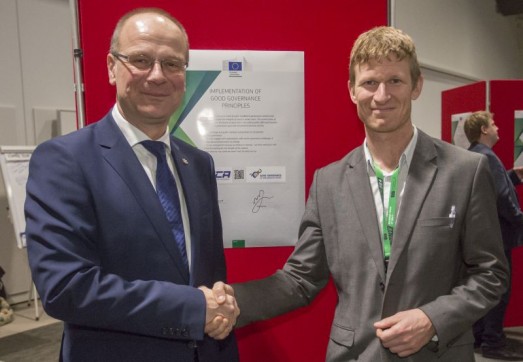 "Even some sports organisations in this room need to work on their governance," ISCA Secretary General Jacob Schouenborg.
ISCA made an official pledge today at the EU Sport Forum in Malta to keep challenging its members and partners to carry out good governance and refuse to work with organisations who are making little effort to change their poor governance practices.
The pledge (pictured and presented in full at the end of this article) is one of 20 good governance posters presented at the EU Sport Forum on 8-9 March. All organisations, including ISCA, signed their pledges in the presence of Tibor Navracsics, the EU Commissioner for Education, Culture, Youth and Sport (pictured).
ISCA Secretary General Jacob Schouenborg said that while many of ISCA's members and partners have made progress in improving their governance and raising awareness among their peers in the grassroots sport sector, other stakeholders in the sport sector are still lagging behind.
"When ISCA started working on good governance in 2011 together with Transparency International, we challenged our members in the grassroots sport sector and we found largely that they had no clue on good governance. And I'm glad to say that today they do and pledge to continue that work. ISCA also pledges to say what we mean and do what we say," he told the delegates to the EU Sport Forum (see the video here).
"I would like to say that the poor governance we see in other sectors of sport negatively influences the brand of sport. It therefore influences what I care about: the participation of citizens in sport and physical activity and we need to do something about that. Finally, ISCA pledges to not work with organisations that show negative or poor governance and do not show willingness to change. And I'm sorry to say, but I believe that some of these organisations are in this room today."
The EU Sport Forum gathered stakeholders in European sport, including many from the grassroots sport sector that are running projects co-funded by the EU. Jacob Schouenborg and Laska Nenova represented ISCA at the event, which concludes this afternoon.
ISCA Good Governance pledge to the European Commission
"IMPLEMENTATION OF GOOD GOVERNANCE PRINCIPLES
Integrity is the biggest asset of sport. Insufficient governance actions have seriously challenged the integrity of sport in recent years. The current state of governance harms the brand of sport and it can unfortunately affect participation in grassroots sport and recreational physical activity.
We challenge and guide members and partners to incorporate good governance
We only engage with organisations with severe governance challenges if they demonstrate actions to change
We are transparent because we believe in sharing – we have nothing to hide
We are working for the benefit of the citizens
We strive to "say what we mean" and "do what we say"
Want more information on Good Governance in Grassroots Sport?
New ISCA stories on good governance