3/8/2016
ISCA President Mogens Kirkeby comment features in Sport and Citizenship journal
The Diplomatic Power of Civil Society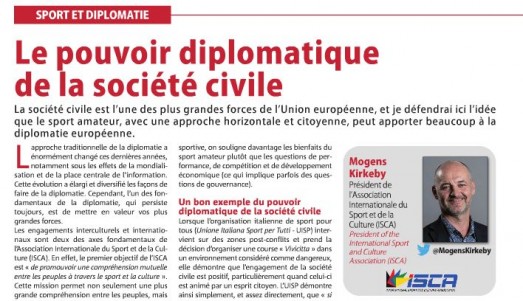 Issue #35 of the Sport and Citizenship journal puts the spotlight on Sport and Diplomacy and features a comment by ISCA President Mogens Kirbeby in both French and English.
The 40-page publication twists and turns through today's complex issues in sport, including its power, "soft power", autonomy, legal implications and, not least, the role of civil society in driving participation at the grassroots.
Kirkeby's comment shows how grassroots sport organisations, as civil society organisations, have a "major" role to play when it comes to diplomacy.
"The engagement of civil society in solutions to societal challenges and the improvement of life quality is one of the finest elements of European democracy. And from time to time we have to remind each other that the main objective of the European Union is to promote peace and wellbeing among its citizens," he writes.
"One way to do and secure this is to bring forward, share and expose our finest assets to the outside world - and grassroots sport organisations, with our people-to-people approach, can be a human and powerful tool in that ongoing process."
He says the release of this edition of the Sport and Citizenship journal comes as a timely moment in sport, where the world's focus will turn to its biggest elite sport spectacle, the Olympic Games, this Friday.
"We are heading towards the biggest (and most expensive) celebration of elite sport - the summer Olympics (in the Brazilian winter) - where many will mention Sport Diplomacy as a sport asset in today's world. I would, however, make the point that grassroots sport with its people-to-people approach, has a major contribution to offer when it comes to public diplomacy. And seen from my perspective the people-to-people approach is what the world of today needs."
The full journal is available for download here